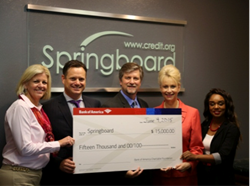 Our philanthropic investments are one way we can connect people to the resources they need to lead financially stable lives.
Riverside, CA (PRWEB) July 02, 2015
Thanks to a $15,000 grant from Bank of America Charitable Foundation, Springboard Nonprofit Consumer Credit Management, Inc. (Springboard) will impact the lives of more disadvantaged women and men with its economic empowerment series. Springboard's interactive workshops are designed to provide a practical life-skills learning opportunity to the unemployed or underemployed.
According to the foundation, the grants were awarded to Inland Empire nonprofits linking low-income workers and their families to vital financial literacy, job training and skills development. The nonprofits receiving the money provide workforce development and education, and are part of Bank of America's focus on job opportunities, next-generation workers and the under-employed.
"The social and economic benefits of employment have been proven time and time again, providing confidence, optimism and stability to our families," said Al Arguello, Bank of America's Inland Empire market president, in a statement. "Our philanthropic investments are one way we can connect people to the resources they need to lead financially stable lives."
Funding will support Springboard's P.E.A.R.L.S. (Preserving, Earning, and Acquiring Real Life Skills) series. This program includes six different workshops covering a range of personal and financial development topics. The agency found that participants in the program increased their score on financial literacy tests by an average of 24%.
In addition to financial literacy education, the workshop includes job development material like job interview techniques, resume development, career counseling, and more. The courses develop the participants' knowledge and emotional readiness for career and financial success.
By strengthening the funding for this program, Bank of America will help thousands of individuals gain direct access to education and assistance, targeted to communities that need help most.
"We're very happy to receive this grant from Bank of America," said Melinda Opperman, Springboard's senior vice president of community outreach and industry relations. "The grant will help further Springboard's mission to deliver personal finance education on the full spectrum of credit, money management, and job readiness skills for the unemployed or underemployed."
More information about the P.E.A.R.L.S. program or Springboard's ongoing nonprofit services can be obtained by contacting the organization's education department by email at education(at)credit(dot)org.
###
About Springboard Nonprofit Consumer Credit Management, Inc.
SPRINGBOARD® Nonprofit Consumer Credit Management is a 501(c)(3) nonprofit personal financial education and counseling organization founded in 1974 with the mission of improving the financial well-being of individuals and families. Springboard is a U.S. Department of Housing and Urban Development-approved housing counseling agency and a member of the Financial Counseling Association of America and the National Foundation for Credit Counseling, the nation's longest serving nonprofit financial counseling organization. Springboard is also a proud member of the Hope Now Alliance, a cooperative effort between the U.S. government and mortgage market participants to help struggling homeowners. Springboard offers personal financial education and assistance in credit counseling, housing counseling, reverse mortgage, debt and money management, pre-bankruptcy counseling and debtor education through educational programs and confidential coaching. Springboard is accredited by the Council on Accreditation, signifying the highest standards for agency governance, fiscal integrity, counselor certification and service delivery policies. Counseling is available by telephone nationwide or in-person at office locations in California, Arizona, Nevada, New Mexico, Texas, Massachusetts, South Carolina, and Florida. For more information on Springboard, please call 800-449-9818 or visit their web site at http://www.Springboard.org