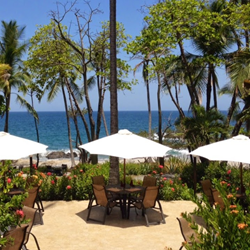 MONTEZUMA, Costa Rica (PRWEB) July 07, 2015
For the fifth year in a row, Ylang Ylang Beach Resort has earned TripAdvisor's coveted Certificate of Excellence. In recognition of its outstanding success, the resort was inducted into the travel review site's Certificate of Excellence Hall of Fame.
The travel site selects its Certificate of Excellence winners based on a minimum number of reviews, consistent ratings of four or above on a scale of five and TripAdvisor membership for at least 12 months. The Hall of Fame highlights those destinations who received the Certificate of Excellence five years in a row.
According to TripAdvisor, only 9% of this year's certificate winners attained Hall of Fame status, putting the resort in very exclusive company. Ylang Ylang achieved its five-year winning streak based on overwhelmingly enthusiastic reviews from guests who have stayed at the resort. The reviewers consistently praised the facility for its exemplary location, service, sleep quality, cleanliness, rooms and value.
Guests are lodged in picturesque beachfront bungalows and are located on Costa Rica's Pacific coast a short distance from the town of Montezuma. Reviewers remark that the views and relaxing pace of life add immeasurably to their stay here. The resort is adjacent to a nature preserve and visitors are likely to encounter exotic wildlife such as coutis, agoutis and avian life unique to the area. Ylang Ylang Beach Resort offers free complimentary local transportation to guests who want to explore Montezuma and the surrounding region.
A favorite of couples, honeymooners, and families, the Costa Rica beach resort features a restaurant that receives rave reviews for the quality and inclusiveness of its cuisine. Daily fare includes mainly organic foods. Vegan, raw-food, gluten-free and seafood dishes, in addition to poultry- and meat-based creations, are an integral part of the extensive menu. Guests are invited to make their dietary preference known at the time they make their reservations. Both breakfast and dinner are included in the price of accommodations.
Owners Lenny and Patricia Iacono moved to Costa Rica in the late 1970s and bought the beachfront site in 1981. Their initial undertaking was drying fruits for sale, a business that morphed into a natural-foods restaurant in Montezuma. Building on the success of that venture, and taking advantage of the newly installed power grid in the area, the Iaconos began development of Ylang Ylang Beach Resort's hotel and spa in 2000.