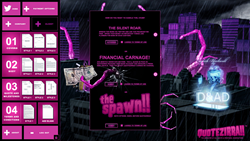 It's really a shame that schools teach many aspects of the creative field but very rarely how to talk to a client about money or prepare a proposal.
Houston, Texas (PRWEB) July 02, 2015
Houston-based ad and design firm English Blackwell announces the launch of QUOTEZIRRA!!™, an online-only app that generates quotes and proposals in as little as 5 minutes. This product was developed specifically to help out our fellow coders, animators, designers, illustrators, small ad firms, other small businesses and entrepreneurs to write better quotes and attract better clients.
"We noticed a lot of people in our industry didn't know how to write a quote or the ones they prepare look terrible. It's really a shame that schools teach many aspects of the creative field but very rarely how to talk to a client about money or prepare a business proposal. I'm a self taught artist with a background in finance. In finance, money is one of the first things we discuss." (Blackwell)
QUOTEZIRRA!!™ uses drag and drop interface with a milestone based system whereby the proposals are written so that the client pays out on each successful milestone or phase completed. Milestones are the industry-preferred method that helps keep work on track. It also allows the client the ability to follow the work and be confident that the company is on target towards project completion.
Each proposal has 5 steps (or less depending on needs) where everything one needs in their proposal are automatically included. Cover sheet, body, milestones with graphics and auto calculator, terms and conditions automatically filled in with correct client and company name, and invoice. The quotes are hosted in the cloud; secure and accessible from any computer in the world.
There is also a blank page option if the user wants to write a quote from scratch. The quote can be as simple or as complex as necessary. QUOTEZIRRA!!™ can also be put to "sleep/silenced" by clicking on billboard (center of screen) or transformer (left corner).
The cost is 5 dollars a month (FINANCIAL CARNAGE). This goes to pay for bandwidth, upgrades, new platforms, program options and our oversized novelty sunglasses addiction. If some users can't afford it, they can use it for free by signing up with a Twitter account. With this option (THE SILENT ROAR) whenever they PDF or send a quote via email it will tweet out #QUOTEZIRRA!! from their account.
About English Blackwell
English Blackwell has a 50s-esque work ethic and deep roots in entertainment and consumer marketing. Based in Houston, Texas, Our firm has won numerous awards and has work featured in more than 600 publications globally. We're more than just designers, copy writers, 3d animators and developers. We're problem solvers. We're hungry and we're insanely curious.
Industries served: hospitality, entertainment, finance, healthcare, energy, gaming, consumer goods, tech, military and beauty