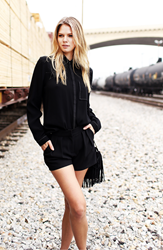 FWD brings many Los Angeles-based junior brands to the East Coast as sister show WWDMAGIC offers the market in Las Vegas
NEW YORK, NY (PRWEB) July 01, 2015
UBM Advanstar, the international fashion community's foremost trade show producer, announces the launch of FWD (pronounced Forward), taking place on August 2nd-4th in NYC's Javits Center. The three-day event will showcase the best of the junior market, including apparel and denim.
UBM Advanstar strategically embraces the recent growth in the Junior market by launching FWD this August on the East Coast, creating new market synergies benefiting brands and retailers alike. FWD provides exhibitors traditionally focused on the Las Vegas market the opportunity to showcase their collections on the East Coast. Retailers now have access to four independent shows running concurrently and centrally located in NYC, creating a vast marketplace consisting of Intermezzo, Accessorie Circuit, Children's Club and now FWD. Buyers will now enjoy an unparalleled assortment and a more convenient buying opportunity.
"FWD aims to fill a void in the New York market, providing buyers with the opportunity to shop fast fashion goods for the juniors and young contemporary markets. FWD brings many Los Angeles-based junior brands to the East Coast as sister show WWDMAGIC offers the market in Las Vegas", states Tom Nastos, CEO/President of UBM's NYC Fashion Group.
New York is the heart of American fashion, and FWD now adds a welcome and fresh merchandising perspective to the East Coast trade show portfolio, offering trend-driven ready-to-wear at sharp prices.
NEW & NOTEWORTHY BRANDS:
Some of the new and most influential exhibiting brands include: Nikibiki, The Classic, Urban Day, Mur, L'atiste, Flying Tomato, Esley, Renee C, Timing, Wow Couture, RD Style, POL, Andree by Unit, Blu Pepper, and many more. Refer to http://www.enkshows.com/fwd website for a complete roster which is updated weekly.
Sunday, August 2nd - Tuesday, August 4th, 2015
Javits Center @ 37th Street, New York City
Sunday - Monday 9:00am-6:00pm; Tuesday 9:00am-5:00pm
ENK INTERNATIONAL The most exclusive trade show producer in the United States, with a series of trade exhibitions in New York City and Las Vegas that include nearly 10,000 design companies. ENK shows attract 250,000 global buyers and press yearly, producing sales of over $1 billion. Currently, ENK produces 14+ annual trade shows including Fashion Coterie, Accessorie Circuit, Intermezzo Collections, Children's Club and ENKVegas.
ABOUT UBM ADVANSTAR
UBM Advanstar, part of UBM Americas, is a US-based event and marketing services business serving the fashion, licensing, life sciences and powersports industries. The company owns and operates a portfolio of 54 tradeshows, 100 conferences, 30 publications and almost 200 electronic products and websites. Our market-leading brands and a commitment to delivering innovative, quality products and services enable UBM Advanstar to "Connect Our Customers With Theirs." UBM Advanstar is a UBM plc company.
Instagram: @FWDSHOW // Twitter: @FWDSHOW // Facebook: facebook.com/fwdshow
Contact: Mandie Erickson: mandie@seventhhousepr.com and Terry Doe: terry@seventhhousepr.com
Press Inquiries: press@enkshows.com