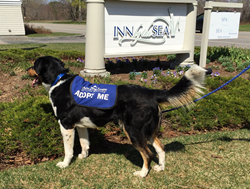 Inn by the Sea has so many animal lovers who visit regularly the dog foster program seemed a great way to connect them to the idea of adopting a homeless dog. Jim Glanville
Cape ELizabeth, Maine (PRWEB) July 02, 2015
Silus, a fuzzy Boston Terrier mix, stands in the lobby of the luxurious Inn by the Sea welcoming guests in an "Adopt Me" vest. Silus is a foster dog who has taken up temporary residence at the elegant beach resort located on a mile of unspoiled sand just south of Portland, Maine.
The Inn by the Sea's dog fostering program is a collaborative effort with the Animal Refuge League of Greater Portland who places homeless dogs in temporary residence at the elegant hotel. The goal is to broaden exposure for the rescue dogs until adopted, and awareness of the Animal Refuge League's work.
Inn by the Sea has a long history of pampering both dogs and their owners - doggie massage, doggie cocktail hour, dog walking services and gourmet pet menus featuring "meat roaff" have been pet standards at this modern and stylish coastal Inn for two decades. The fostering program is a natural progression for a property and staff who were already in the business of offering over the top hospitality to dogs and their human companions, according to the Inn's General Manager, Jim Glanville.
"Inn by the Sea has so many animal lovers who visit regularly this dog foster program seemed a great way to connect them to the idea of adopting a homeless dog," stated Glanville. "Most visitors can't resist interacting with guest dogs as well as our foster dogs, and of course the staff adores having them on property," he said. "The hard part is saying good bye - we're thrilled when they're adopted, but still hate to see them go."
Mambo, a three year old Bernese Mountain dog mix, followed by an 8 year old Shih Tzu, Hudson, Lucy Lu, a hound mix, Tyra , a lab mix, and Loki, a Plott hound were all adopted within days after being cared for by staff at the Inn. Summer brings throngs of people to Maine beaches so the staff is betting Silus finds a great home quickly too- in the meantime Inn guests and staff are enjoying lots of walks, tummy rubs and the company of a wonderful dog.
About Inn by the Sea: Located on Crescent Beach in Cape Elizabeth, the eco luxury Inn by the Sea is just 7 miles from Portland's urban chic small port city, as well as minutes from the renowned Portland Headlight and Winslow Homer studio. With a modern and stylish take on a traditional shingled coastal resort, full service SPA, ocean view dining in Sea Glass restaurant, and private boardwalk to a mile of beach, Inn by the Sea is Maine's premier beach destination. Selected to both Conde Nast's Gold List and Travel & Leisure's 500 Best Hotels in the World in 2014, Inn by the Sea has both LEED® silver and Maine DEP Environmental Leader certifications, and is Maine's only Virtuoso® and Preferred Boutique Hotel®.
FMI: Rauni Kew, Public Relations Manager, Inn by the Sea, 40 Bowery Beach Road, Cape Elizabeth, Maine 04107. 207. 799. 3134 rkew(at)innbythesea(dot)com http://www.innbythesea.com hi res images available