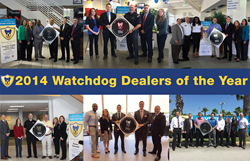 Melbourne, FL (PRWEB) June 30, 2015
Space Coast Credit Union (SCCU) recently honored six auto dealers with its 2014 Watchdog Dealer of the Year award, in recognition of the superior service they provide to SCCU members. The awards are based on SCCU member survey ratings throughout the year, in addition to the total loan volume they generated for SCCU. This year's winners include: Rosner Chevrolet, AutoNation Chrysler Jeep Dodge Ram of Pembroke Pines, Bev Smith Toyota, AutoNation Ford of Miami, Universal Nissan Hyundai, and Daytona Dodge. This is the fourth consecutive year Rosner Chevrolet was honored with this award and the second consecutive year for AutoNation Ford of Miami.
"Local dealers are our partners in the auto business and we work together to ensure that our members are highly satisfied - both with their experience at the dealership as well as with SCCU. We value our members' feedback and share their voice through uncensored ratings and reviews displayed on our website to help inform and protect other members," says Jodie Kinley-Smith; SCCU's indirect lending sales manager. "This award is a way to thank and recognize those dealers who provide exceptional service to our members."
This marks the sixth year for the Dealer of the Year award program that started in 2009. Each dealer recognized receives a plaque to be displayed at the dealership as well as a special vehicle sale that is promoted to SCCU members at no charge to the dealership. Although SCCU has been providing auto loans through dealerships in Orange, Osceola, Seminole, St. Lucie, and Martin Counties for many years; this is the first year that dealers from these regions have been honored with the Watchdog Dealer of the Year award.
Beyond ratings and reviews, SCCU Members' Watchdog promises to always watch out for its members' financial interests in all aspects of their lives. SCCU fulfills its promise by using its experience and knowledge to assist members through the auto buying decision, and providing the most competitive auto loan rates with no hidden costs. SCCU's indirect lending program not only saves members' money, but also time, by enabling members to obtain their loan when purchasing a vehicle right at the dealership.
****
Space Coast Credit Union was chartered in 1951 and is headquartered in Melbourne, Florida. The Credit Union serves over 300,000 members with assets of over $3.4 billion through a network of 58 branches and over 100 ATMs located throughout Florida and through its web site, SCCU.com. Space Coast Credit Union is open for membership to anyone who lives or works in the fourteen Florida counties it serves. Locations can be found at SCCU.com/locations.