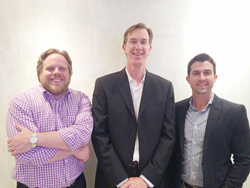 Dallas, Texas (PRWEB) July 02, 2015
Oak Mortgage Group is proud to announce five Oak employees as "2015 Best Mortgage Professionals in Dallas" by D Magazine. D Magazine's 'Best of D' award represents less than three percent of mortgage professionals in the Dallas/Fort Worth area.
This year's winners include:

Andy Tuttle
Brian McCauley
David Chance
Jeremy Radcliffe
Marc McClendon
"I think it takes a consistent and undying commitment to excellence in serving clients to win this award. There really is no margins for error when helping people buy their home," says Marc McClendon, Sr. Private Mortgage Banker at Oak Mortgage Group. "This is an individual award but like so many accolades there are way more people to be credited than the one that is recognized. I have an amazing team at Oak and I'm so proud we can all celebrate in such a great honor," says McClendon.
D Magazine's selection begins by reaching out to 15,000 people, including best real estate agent winners, title companies, magazine subscribers and recent home buyers. The data received is entered into an algorithm that places emphasis on feedback from the consumers, subscribers and recent home buyers.
Jeremy Radcliffe, Sr. Private Mortgage Banker at Oak Mortgage Group and fourth time winner of the Best Mortgage Professional award, states that it's, "ultimately about taking care of people. I'm always asking what would I want if I were in my client's shoes, and then I aim to go above that and try to wow them in the process."
Oak Mortgage is extremely proud of our entire team and wishes to send special congratulations to the five winners.
About Oak Mortgage Group
Oak Mortgage Group is a boutique-sized residential mortgage company founded in 2005 and owned by Jason Sherman and Holden Thomas. Oak Mortgage is creating a game-changing vision in the mortgage industry which includes improving the customer experience, building trust and having a people-centered philosophy where the customer's needs are the central focus. Oak Mortgage has offices in Austin, Dallas, College Station and Waco with plans for further expansion.
Oak Mortgage Group has its own one-of-a-kind microloan program, Oak for the Oppressed. A portion of every loan funded by Oak Mortgage Group goes to helping people in Africa and Central America escape poverty by helping those in need start their own businesses and provide for their families.
Oak Mortgage Group is an Equal Housing Lender. Visit their website at http://www.oakmortgagegroup.com. If you would like more information about this topic or to schedule an interview with any of the winners, please email Heather Moorman at heather.moorman(at)oakmortgagegroup(dot)com.
###