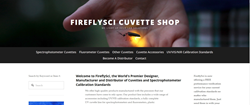 Brooklyn, NY (PRWEB) July 03, 2015
Cuvettes have been used in countless labs for decades. In the past, people had to go to a phone book style catalog to find the cuvette they needed. As expected, this was a daunting and tiring process looking at endless data tables and charts. Often time's, people would order the wrong part because they were not able to navigate the complex catalog structure.
Now thanks to FireflySci, scientists are throwing away those old books and logging onto the FireflySci website, which is the only on-line cuvette shop in the world. FireflySci has gone out of their way to make sure that their website has been streamlined to take customers by the hand in locating the spectrophotometer cuvette they need.
When someone logs onto fireflysci.com the first thing they are greeted by is a bright, easy to navigate homepage. Cuvette can selected from the top menu bar and are divided based on the type of machine a researcher is using. To the left of the menu bar is a search feature for customers who are unsure of where to go first.
FireflySci has packed their product pages with tons of useful information. On these pages scientists can find dimensional data, a large photo of the cuvette, and all the features that each cuvette has to offer. In addition, FireflySci has recommended accessories on these pages so customers can quickly find the proper tools they need to run a full experiment.
Once the desired cuvette has been found then the researcher has to select the material and lightpath for the part. Once all the options have been selected the correct price is shown and with just a click of the Add to Cart button, the cuvette can be ordered. Shopping for a spectrophotometer cuvette has never been easier.
For people who have questions or just need that little bit of extra guidance, FireflySci excels in customer care and service. On the website there is a convenient Chat Now button in the bottom right-hand corner that a visitor can click for immediate service. People on the FireflySci site can easily get their questions answered while they continue to browse the web by using this amazing on-line chat feature. No more waiting on hold, no rude and impatient salespeople, no silly hold music, just 100% streamlined customer service.
The founders of FireflySci Inc., Simcha Woitovich and Gordon Cinco expect to see many scientists enjoying the content on the website. From the helpful user videos, to the fast on-line checkout FireflySci is the ultimate source for all cuvette needs.
To place an order log onto http://www.fireflysci.com today.