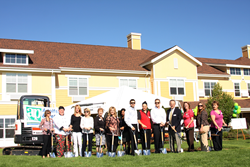 Greeley, Colorado (PRWEB) July 01, 2015
Adolfson & Peterson Construction (A&P) recently joined with the Grace Pointe Continuing Care Community, Lantz-Boggio Architects and Continuum Health to celebrate the grand opening of Phase II of the Grace Pointe Continuing Care Community.
Attended by Greeley community members, guests and staff, the celebration marked the much-anticipated expansion of the Grace Pointe Continuing Care Senior Campus in Greeley, Colorado. This multi-phased project added 26 assisted living units with a 28,000-sf wing addition and expanded two dining rooms in the existing facility. The campus remained occupied during construction.
Grace Pointe provides independent living and assisted living, skilled nursing, rehabilitation and memory care services, along with an array of lifestyle-enhancing services and amenities.
Deb Majors, Director of the Grace Pointe Facility, and Steve Briscoe, Owner of Continuum Health, attended the ceremonies and helped welcome community members who came out to see the new additions to the facility.
About A&P
A&P is one of the top 50 construction companies in the U.S., providing construction management, design-build and general contracting services to public and private clients. A&P serves the municipal, K-12 school, higher educationhealthcare, multi-family, retail and senior living market segments from its offices in Arizona, Colorado, Minnesota, North Carolina, Texas and Washington. For more information, please visit http://www.a-p.com or follow them on twitter and facebook.