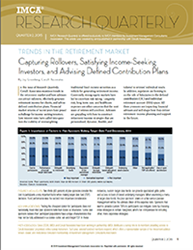 Denver, CO (PRWEB) July 01, 2015
Low interest rates and relatively strong equity markets may be causing today's advisors to grapple with constructing retirement-income strategies tailored to retirees' individual needs. Investment Management Consultants Association® (IMCA®) recently published a resource in partnership with Cerulli Associates that takes a close look at the retirement market: the second quarter Research Quarterly: Trends in the Retirement Market: Capturing Rollovers, Satisfying Income-Seeking Investors, and Advising Defined Contribution Plans. Key findings include:

Advisors who maintain strong relationships with a client base are well-poised to attract rollover assets. Rollovers to advisors were on average more than twice the size of rollovers to direct providers, averaging more than $120,000, compared with less than $60,000 for direct providers.
With interest rates remaining near historic lows and equity markets continuing to generate strong returns, several traditional retirement-income strategies have fallen out of favor with advisors.
Many advisors hold annuities in their clients' portfolios, but re-priced products and insurance company exits have tainted advisors' opinions of annuities and made them wary of incorporating the product.
There is a large discrepancy between the number of retail financial advisors who hold annuities in client portfolios (217,784) versus the number who actively sell annuities (106,606).
Investors and advisors in search of higher yields have been considering closed-end funds as a viable portion of retirement-income portfolios.
Click here to read the entire issue.
IMCA Research Quarterly is a benefit of IMCA membership. It is created and published in partnership with Cerulli Associates.
IMCA Contact: Ryan Hoffman, Communications Director. P: 303.850.3079 Email: rhoffman(at)imca(dot)org. Twitter: @IMCA.
About IMCA
Established in 1985, Investment Management Consultants Association® (IMCA®) is a nonprofit professional association and credentialing organization with more than 10,000 individual members and certificants worldwide. IMCA members collectively manage more than $2.477 trillion, providing investment consulting and wealth management services to individual and institutional clients. Since 1988, IMCA has offered the Certified Investment Management Analyst® (CIMA®) certification, which earned accreditation by the American National Standards Institute (ANSI) in April 2011, making it the first financial services credential in the United States to meet international standards (ISO 17024) for personnel certification. IMCA's Certified Private Wealth Advisor® (CPWA®) certification is suited for wealth management professionals working with high-net-worth clients. In 2014, IMCA conferences and workshops hosted nearly 4,000 attendees.
IMCA® and Investment Management Consultants Association® are registered trademarks of Investment Management Consultants Association Inc. CIMA®, Certified Investment Management Analyst®, CIMC®, CPWA®, and Certified Private Wealth Advisor® are registered certification marks of Investment Management Consultants Association Inc. Investment Management Consultants Association Inc. does not discriminate in educational opportunities or practices on the basis of race, color, religion, gender, national origin, age, disability, or any other characteristic protected by law.
About Cerulli Associates
Headquartered in Boston with offices in London and Singapore, Cerulli Associates is a global analytics firm that provides financial institutions with guidance in strategic positioning and new business development. Our analysts blend industry knowledge, original research, and data analysis to bring perspective to current market conditions and forecasts for future developments.
Cerulli's research product line includes Cerulli Reports, The Cerulli Edge series, and Cerulli Lodestar.
For press support, use the information below:
Media Support:
press(at)cerulli(dot)com
+1 617-437-0084