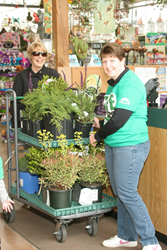 The new partnership gives clients of The Group early access to the Garden Media's consumer behavioral trends.
Atlanta, GA (PRWEB) June 30, 2015
The Garden Center Group and Garden Media Group, two lawn and landscape industry leaders, join forces to become 2015-2016 trend partners to help independent garden centers meet the needs of tomorrow's consumer.
The new partnership gives clients of The Group early access to the Garden Media's consumer behavioral trends. These insights will help define and drive the future of the lawn and garden industry and foster a love of gardening in new consumers.
"The Group need to attract new customers," says Danny Summers, managing director of The Group. "This partnership provides garden centers with the insight to uncover and meet new consumers' needs, even before they know them."
Summers says the partnership will help independent garden centers connect with new audiences and get them "fired up about gardening, the outdoors and what we sell."
According to Summers, The Group's clients will regularly receive new marketing ideas and tips for instant implementation, trend spotting concepts to attract new customers and new product ideas to help expand the category.
"We want the new consumer to think big about the future of gardening," says Susan McCoy, president of Garden Media Group. "Our annual trends report allows independent garden centers to reach new customers in ways they never have before. We'll be sharing tips to make these trends come alive in their stores."
Lead by Clint Albin, Garden Media is helping unearth new opportunities and will present its exclusive 2016 Garden Trends Report Deep Dive at The Garden Center Group's Fall Event in Orlando, September 22, 2015. This private event is by invitation only for Group retail clients.
About The Garden Center Group: The Garden Center Group, an alliance consisting of over 150 companies, is the industry's business development resource for garden centers and suppliers. The Group focuses on business solutions designed to help garden centers increase sales, improve operations and retain more profit. With a support team of leading industry professionals offering business management, financial, marketing, merchandising, HR services, facility design, and more, the Garden Center Group provides retailers innovative resources to maximize their potential for success.
About Garden Media Group: Garden Media Group (GMG) specializes in home, garden, horticulture, outdoor living, lawn and landscape industries, offering innovative PR campaigns designed to secure top media placements and partnerships. For over 20 years, GMG has ignited buzz for clients, earning the reputation as the best public relations firm for regional, national and international brands of all sizes. Their annual Garden Trends Report is one of the most published garden studies in trade and consumer news.
For more information please visit http://www.thegardencentergroup.com/index.htm or contact Danny Summers at (678) 909-7770 or danny(at)thegardencentergroup(dot)com.