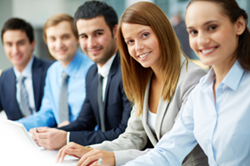 With the Palo Alto office, we can be staffed and up and running in hours.
Austin, Texas (PRWEB) July 01, 2015
Advanced Discovery, a nationally recognized eDiscovery services and software company, announced that it has opened a new facility in Palo Alto for document review. The new office will serve law firms and corporations in Silicon Valley.
"Before acquiring this space, we leased offices for our managed document review projects on an as-needed basis. However, many clients asked for a permanent, secure, off-site facility in Silicon Valley. With the Palo Alto office, we can be staffed and up and running in hours," said John Sanchez, VP managed document review.
The centrally located office is designed to accommodate 50 attorney reviewers and is expandable to twice that size. This is Advanced Discovery's third review center in California: San Francisco, Los Angeles and now, Palo Alto. The company's other review facilities, with a total of 800 seats, are in Chicago, New York City, Washington, DC and Detroit.
Advanced Discovery employs BAR-licensed review managers, who work in collaboration with clients, to oversee all review projects. It also employs an ever-expanding staff of review attorneys, many with specific subject matter or foreign language expertise. The team has found that by establishing dedicated review teams for repeat clients, they can bring acquired corporate intelligence to matters, providing more efficient and economical services.
In addition to the document review centers, Advanced Discovery has two SSAE 16 Type 2 data centers and 13 offices nationwide housing support staff. The company has developed several proprietary software tools that enhance review capabilities within the Relativity platform.
About Advanced Discovery
Advanced Discovery is an award-winning, end-to-end eDiscovery software and services provider, supporting law firms and corporations nationwide since 2002. Advanced Discovery offers project planning and budgeting, data preservation and forensic collection, early case assessment, hosted review, managed document review and more from its numerous state-of-the-art facilities across the country. The company employs leading professionals in the industry, applies defensible workflows and provides industry-proven technology across all aspects of the eDiscovery life cycle. This devotion to excellence has earned Advanced Discovery inclusion on the Inc. 5000 list of fastest growing companies in the US for four consecutive years and recognition as a top provider by Legal Times, Texas' Best and other publications.