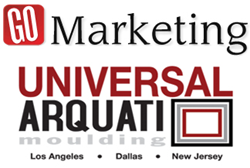 Thousand Oaks, CA (PRWEB) June 30, 2015
Universal Arquati, America's premier picture frame moulding company has selected GoMarketing Inc., a leading internet advertising and online marketing firm based in Thousand Oaks, CA, to empower their online brand, rebuild their online presence and provide industry leading marketing services nationwide.
GoMarketing Inc. President, Richard Uzelac, is excited about the opportunity to work with Universal Arquati.
"Universal Arquati is the national leader in design, and construction of framing products in the United States. Their frame moulding products are highly prized by the best designers and retailers nationwide," said Richard Uzelac. "GoMarketing is committed to improving their online brand and presence to match the incredible products they produce. We are also tasked with marketing this fine brand online and give them the exposure they deserve."
GoMarketing Inc., a certified Google Partner, is supplying a full site rebuild for Universal Arquati, complete with a new layout, improved graphics and images, and a section for blog posts. In addition to the update, GoMarketing will make the new site mobile responsive and implement a system of Google Analytics to track traffic on the site. In addition, GoMarketing will provide internet marketing and advertising to drive more traffic and business to Universal Arquati. These measures will allow Universal Arquati to establish them online like never before.
About Universal Arquati
Universal Arquati is a leading supplier of exclusive quality picture frame moulding, offering the latest styles at value prices. Our company is a union between Universal Framing Products and Arquati Moulding, each renowned for the superior quality of their picture frame mouldings. Together we continue to provide excellent service and a substantial amount of valued product to our customers.
About GoMarketing Inc.
Over the past nine years, GoMarketing has constantly endeavored to understand the Internet marketing landscapes as it changes practically daily. They offer Online Advertising, Internet Optimization, Social Media Optimization, E-Commerce solutions, Software Design and Development, Website Design and Development, and a host of services to provide our Clients with the best programs to meet their goals.