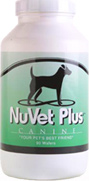 Westlake Village, CA (PRWEB) July 01, 2015
NuVet Labs, developers of NuVet Plus, NuJoint Plus and NuJoint DS pet supplements will be holding a photo contest to help celebrate the 4th of July. The winning photo can win up to a year's supply of NuVet Plus or NuJoint DS and $500 to donate to their favorite verified 501(c)(3) pet charity.
Celebrate this Independence Day by submitting a photograph of your patriotic pet to the NuVet Red, White & Cute photo contest. Winners have the opportunity to win NuVet Plus or NuJoint DS and $500 to donate to a verified 501(c)(3) pet charity. NuVet Labs strives to keep pets healthy through their line of high quality pet supplements like NuVet Plus and NuJoint DS. NuVet Plus and NuJoint DS by NuVet Labs contain the finest natural, human-grade ingredients that are geared toward strengthening the immune system and improving joint health and mobility. Manufactured in an FDA registered laboratory, NuVet supplements are designed to keep pets in optimal health. Testimonials and NuVet Plus Reviews tell the stories of success with so many pets.
NuVet Labs also has a strong commitment to supporting pet charities and improving the quality of lives for dogs and cats. With regular donations of NuVet Plus, NuJoint DS, pet supplies as well as monetary donations, NuVet Labs remains dedicated to helping non-profit animal rescue groups and animal shelters across the United States.
If you're interested in entering the NuVet Red, White & Cute Contest and helping a registered non-profit animal group, rules are available on the NuVet Labs Official Facebook Page. For those who would like to enter their pet in the NuVet Red, White and Cute photo contest, entrants may submit their photo beginning July 1, 2015 at 12:10 am PST until July 5, 2015 at 11:59 pm PST.
About NuVet Labs
NuVet Labs has been on the cutting edge of pet health since the company's establishment in 1997. Its flagship nutritional supplement, NuVet Plus, took eight years to research and develop, and other NuVet products are backed by the same level of dedication to quality. NuVet Labs also manufactures NuJoint Plus, a hip and joint therapy for dogs suffering from mobility issues, as well as NuJoint DS, a double-strength joint formula. Additional products include therapeutic treatments, shampoos, and odor and stain removers.
Read more about NuVet Labs and Nuvet Plus Reviews here