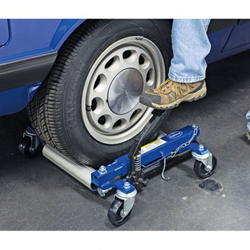 Maneuvering vehicles around the garage on a floor jack is unsafe
Pottstown, PA (PRWEB) June 30, 2015
The Eastwood Company has launched Hydraulic Wheel Dollies that lift the vehicle's wheels off the ground which makes moving cars around the garage easy. Great for project vehicles or maximizing garage space when storing a vehicle.
Each Eastwood Hydraulic Wheel Dolly can lift up to 1300 lbs, and work with tires up to 12 inches wide. Featuring heavy duty ball bearing casters, these dollies allow cars to be easily maneuvered around most paved and concrete surfaces. Hydraulic powered tire grab/lift action and foot pedal simplify the lifting process.
"Maneuvering vehicles around the garage on a floor jack is unsafe," said Nick Capinski, Eastwood Director of Product Solutions. "These hydraulic wheel dollies make it easy and safe to move your car around in the garage, even in tight spots."
Eastwood markets unique tools and supplies for repair, restoration, and modification of cars, trucks, and motorcycles. Founded in 1978, Eastwood strives to develop new products to serve the home automotive hobbyist, as well as individuals and organizations focused on the restoration and customization of automobiles and motorcycles. Writers are always welcome to use any article in Eastwood's Free Tech Library, with attribution. Contact Nick Capinski at ncapinski(at)eastwood(dot)com.