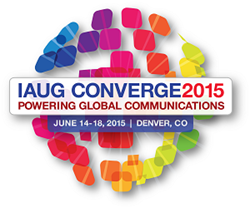 Bulk order, fault management, and TEM generated great interest at CONVERGE2015
(PRWEB) June 30, 2015
NetPlus exhibited at this year's International Avaya User's Group (IAUG) conference in booth 438 in Denver, CO earlier this month. Product Manager, Jim Gilmour gave demonstrations of the latest features in the NetPlus Telecom Management Software suite to attendees during the show.
"Attendees were very interested in the bulk work order capabilities, fault management features, and TEM features that we've added to our software suite this year. We also showed our cloud services and how we can secure customer environments," said Gilmour.
The NetPlus Telecom Management Software Suite provides a turnkey solution for management of UC, TDM, and hybrid telecom environments. Completely web-based, NetPlus offers users a customizable user experience, reporting and business intelligence, automated provisioning management, self-service, cost accountability, and inventory and infrastructure management.
About NetPlus®
NetPlus is a leading Communications Management solutions provider for both commercial and government entities. With over 25 years of experience NetPlus offers a suite of solutions for expense management, data validation, fault management, inventory tracking and control, provisioning, and more. Customers like Department of Defense, Department of State, United States Air Force, Avaya, Verizon, and the Pentagon utilize NetPlus solutions for the daily operation of their communications and data network. NetPlus is JITC certified and can be procured through Vanguard and GSA. Headquartered in Gaithersburg, MD, NetPlus is a division of Ventraq Corporation. For more information, visit http://www.NetPlusTMS.com.