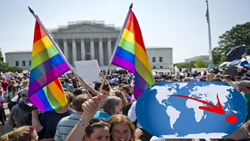 San Ramon, CA (PRWEB) June 30, 2015
The popular social media gossip website, Juicy Chatter, has organized a mock crowdfunding campaign to raise money for one-way tickets for all those people who are not happy about gay marriage becoming legal in America.
The recent Supreme Court decision to make gay marriage legal across all 50 states was good news for some but caused a great deal of controversy. The social media sites blew up with comments from thousands of people who said they were going to move to Australia where gay marriage is still illegal.
Juicy Chatter site owner, Ramon van Dutch, comments, "Our crowdfunding page has become very popular and many people have actually said they would support a movement like this. However, we have no plans to actually create a genuine crowdfunding campaign for this purpose. We are merely having fun This is not a real crowdfunding campaign."
The website has created a special page that highlights just a few of the many real comments from people on Twitter about the Supreme Court's recent decision. While thousands seem delighted about the decision, millions of staunch conservatives remain angry and in disbelief. The social media sites have been buzzing with these highly volatile conversations. For more information, please visit: http://juicychatter.com/help-anti-gay-marriage-americans-move-to-australia/
About Juicy Chatter
The Juicy Chatter website features everything from entertainment news to the latest celebrity gossip. They specialize in social media chatter and often highlight this especially during times when there are big controversies going on. The site brings its viewers current, fun, interesting or unusual celebrity news and gossip tidbits. As a worldwide news source, they focus on the most controversial issues. They have 12 reporters working for their site and plans to start a new web show in the near future that will be exclusively hosted on Facebook.