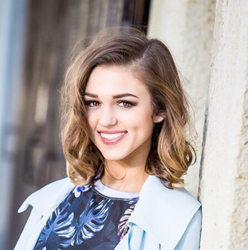 When DaySpring came to us and asked if they could put some of what I wrote in my book "Live Original" on school supplies and folders that would then be seen by millions of kids, I got excited.
Dallas, TX (PRWEB) July 01, 2015
Sadie Robertson, star of A&E's Duck Dynasty and ABC's Dancing with the Stars, will visit two Dallas-area Walmart stores on Tuesday, July 7, to highlight her new line of school supplies from DaySpring Cards and kick off Champions for Kids' latest SIMPLE Service project.
Robertson will greet fans for photo opportunities and autographs at each store. The first appearance will take place from 9:00 to 10:30 a.m. at the Walmart location at 1200 N. Hwy 77 in Waxahachie; the second visit will take place from noon to 1:30 p.m. at the Walmart at 100 Ryan Drive in Red Oak.
"When DaySpring came to us and asked if they could put some of what I wrote in my book "Live Original" on school supplies and folders that would then be seen by millions of kids, I got excited," said Robertson. "Now Champions for Kids is helping get extra folders to families who maybe can't afford all their school supplies, so that just makes it even better."
"We're thrilled to help Champions for Kids, and to partner with Sadie to distribute positive messages to as many kids as possible," added Jim Hauskey, DaySpring's vice president of strategic marketing. "DaySpring is about giving people just the right ways to express their faith. These school supplies at Walmart give kids practical tools for school that also help them share and inspire."
Robertson's new line of academic composition books, spirals, and folders will be highlighted within the Walmart back-to-school section of each store. Her positive, faith-driven messages on the school supplies – plus the fun polka dots, stripes, hearts and trend-forward colors – are designed to inspire teens and tweens to "Live Original." The line is available nationwide in 1,900 Walmart stores.
During these store visits, Robertson will also announce DaySpring's donation of more than 100,000 high-quality academic folders for schools and youth-based organizations throughout the country to distribute to students at the beginning of school in August. In fact, DaySpring and Champions for Kids plan to send full pallets of folders to school districts and organizations in 10 different states. Through this donation, DaySpring and Champions for Kids hope to inspire others to participate in SIMPLE Service, a Champions for Kids program that mobilizes local communities to gather and donate resources for children in need.
"This generous donation from DaySpring means that many thousands of children will become more prepared to begin their school year," said Adelaide Schaeffer, president and CEO of Champions for Kids. "We hope it will inspire others to volunteer and give in their own communities so that kids everywhere can have the resources they need to thrive."
The donation of school supplies is part of DaySpring's longstanding commitment to community involvement and cause-related giving. Over the past 25 years, DaySpring has donated millions of greeting cards to American Rehabilitation Ministries for their prison ministry. The company has also developed card lines where portions of sales go to causes, including Compassion International.
Representatives from DaySpring and Champions for Kids will also be available to members of the press and media for interviews.
About Sadie Robertson
Sadie Robertson is well known for her dimples and engaging smile, but there is more to the 17-year-old charmer and star of A&E's Duck Dynasty than that. A high school athlete and motivational speaker, Sadie spends her summers on mission trips and working at a Christian youth camp spreading her message to peers about being confident in who you are and learning to "live original."
Sadie also embodies the creative and entrepreneurial spirit of the Robertson family and has carried her philosophy into multiple business ventures, collaborating with fashion designer Sherri Hill on her own "daddy-approved" prom dress line, Live Original, (she even walked in Hill's show for New York Fashion Week in 2013) and developing her own Live Original line of school supplies for DaySpring. Sadie's new book, Live Original: How the Duck Commander Teen Keeps It Real and Stays True to Her Values, is available now at retailers nationwide.
About DaySpring
DaySpring Cards, Inc., based in Siloam Springs, Arkansas, is the world's largest Christian social expression company, with more than 6,000 products that give people just the right ways to express their faith – from greeting cards and calendars to specialty gifts and home décor. DaySpring products are sold in retail stores in the United States and 60 foreign countries. Visit http://www.dayspring.com for more information about the company, to find a local retailer, or to send a free e-card.
About Champions for Kids
Champions for Kids makes it simple to give kids in your community the resources they need to thrive. Since 2004, Champions for Kids has served more than 5.6 million children across all 50 states through in-store donation campaigns, service projects and community events. For more information, please visit http://www.championsforkids.org.
About Walmart
Wal-Mart Stores, Inc. (NYSE: WMT) helps people around the world save money and live better – anytime and anywhere – in retail stores, online, and through their mobile devices. Each week, we serve nearly 260 million customers who visit our 11,462 stores under 65 banners in 28 countries and e-commerce websites in 11 countries. With fiscal year 2015 revenue of $486 billion, Walmart employs more than 2 million associates worldwide. Walmart continues to be a leader in sustainability, corporate philanthropy and employment opportunity. Additional information about Walmart can be found by visiting http://corporate.walmart.com on Facebook at http://facebook.com/walmart and on Twitter at http://twitter.com/walmart. Online merchandise sales are available at http://www.walmart.com and http://www.samsclub.com.