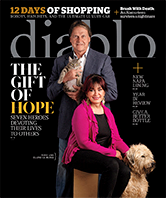 Thank you friends at Diablo Publications for generously supporting and promoting the Junior League—we appreciate it beyond words. Mackenzie Lesher, past president of the Junior League of Oakland–East Bay
Walnut Creek, CA (PRWEB) June 30, 2015
Over the last 35 years, Diablo Publications has supported causes in the San Francisco East Bay and now as an employee-owned company (as of December 29, 2014) is increasing its efforts to support organizations through its comprehensive audience reach. Diablo Publications has extended its involvement in the community through media sponsorships which support over 100 nonprofit/charitable organizations in the San Francisco East Bay in 2015.
Diablo is supporting organizations small and large, such as The Taylor Family Foundation and the Livermore Valley Wine Auction, whose missions are to preserve the wellness and enhance the quality of life for children in Northern California. Diablo Publications also serves the Napa and Sonoma community and assists with fundraising events such as Festival Del Sole, which is dedicated to enriching the region's cultural vitality and to supporting arts education—from nurturing young talent through the Bouchaine Young Artist Series, to presenting free community concerts, to awarding grants to local schools and arts organizations.
Another way Diablo Publications helps community organizations is by creating special advertorial sections in Diablo magazine that support causes, such as the Junior League. The League's mission is to support underserved children and improve communities through the effective action and leadership of trained volunteers. Diablo created a special section within the magazine called The Artful Living Home Tour, which showcases spectacular homes in the East Bay and promotes ticket sales for the event to the Diablo audience to help the League's cause.
"Thank you friends at Diablo Publications for generously supporting and promoting the Junior League—we appreciate it beyond words," states Mackenzie Lesher, past president of the Junior League of Oakland–East Bay. "Diablo has supported the Junior League over the years as well as many other organizations that I have been involved with, and we are very appreciative of its support."
"We are passionate about our community and are happy that we can support these local organizations through our media sponsorship," states Melinda Solomon, Marketing and Circulation Manager for Diablo magazine. "Many of these wonderful causes need assistance in being recognized, and Diablo is pleased that we can support them through our marketing efforts."
Diablo Publications also hosts three signature events of its own every year, each with charitable beneficiaries. Diablo Women, attended by high-profile Bay Area women, has an extravagant drawing to raise money for local nonprofits. Gourmet East Bay, which features high-end food and beverages, incorporates a raffle and silent auction that raises funds for the Food Bank of Contra Costa and Solano. With its third signature event, Threads of Hope, Diablo magazine celebrates outstanding community volunteers. Each year, individuals and organizations nominate volunteers of all ages who provide vital services in a variety of fields, including the arts, youth, families, education, health, the environment, athletics, and more. Currently, nominations are open: If you know an outstanding volunteer, nominate him or her now at diablomag.com/threads – deadline is July 3, 2015.
About Diablo Publications
For 35 years, Diablo Publications, an employee-owned company, has been creating award-winning publications, including Diablo magazine, Napa Sonoma magazine, Diablo Weddings, the Diablo City Book Series, Diablo Arts, Concierge East Bay, and the Tri-Valley California Visitors Guide. Covering travel, theater, lifestyle, and home design, Diablo Publications celebrates the people, places, and pleasures of the East Bay and North Bay. Diablo Publications' custom content division, Diablo Custom Publishing (DCP), provides complete print and online marketing communications and customer publishing services for corporate clients nationwide. For more information, visit diablomag.com or dcpubs.com.