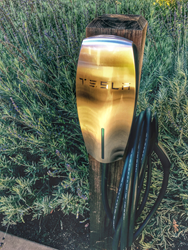 "As the only LEED Platinum Certified luxury hotel in the U.S., offering green services and amenities to our guests is part of our DNA here at Bardessono," Jim Treadway, General Manager, Bardessono
Yountville, CA (PRWEB) July 21, 2015
Bardessono Hotel & Spa, the luxurious, LEED Platinum Certified wine country retreat in the heart of Napa Valley, is continuing to set new standards in sustainability by partnering with Tesla Motors, America's premier manufacturer of electric cars, to offer the Tesla Destination Charging Program for guests with electric vehicles. Bardessono Hotel & Spa has installed two Tesla Connectors available to hotel guests any time during their stay, as well as to any Tesla owners who are visiting the area. Guests are welcome to park with Bardessono's valet team, and to enjoy a meal on premise at Lucy Restaurant & Bar, or go shopping or indulge in a spa treatment The Spa & Shop at Bardessono.
"As the only LEED Platinum Certified luxury hotel in the U.S., offering green services and amenities to our guests is part of our DNA here at Bardessono. And, providing a free and easy way for visitors to charge their electric vehicle via our collaboration with Tesla Motors is no different: it combines their leading-edge technology with our commitment to service and to the environment."
Bardessono joins a rapidly growing network of luxury lodging accommodations in Tesla's Destination Charging Program; in which, Tesla partners with hotels, resorts, and restaurants around the world to offer High Power Connectors as an amenity for visitors.
The Model S offers 270 miles of range on a single charge so the High Power Wall Connector can easily top off the Tesla in just a few hours. Tesla High Power Wall Connectors add 58 miles of range per hour to Model S, charging the vehicle overnight and replicating the convenience Tesla owners are accustomed to at home.
All Tesla cars come with charging equipment for use in home garages and Tesla has positioned Supercharger stations on Interstates throughout the US that enable drivers to recharge in 30-40 minutes The vehicles can travel approximately 270 miles on a single charge.
###
About Bardessono Hotel & Spa
Bardessono Hotel & Spa opened in February 2009 with 62 guest rooms in Yountville, California, the heart of the Napa Valley. The hotel boasts Lucy Restaurant and Bar with its own on-site, CCOF (California Certified Organic Farming) culinary garden, and a full-service spa, as well as personalized spa treatment areas in each of its guest rooms. We pledge to care for an uncommon set of priorities: for the environment, for each other, for our guests, for the property, and for the community nearby. Together, these priorities are the foundation for unprecedented and attentive service http://www.Bardessono.com
Bardessono has been the recipient of the following awards:

California's first and only LEED Platinum certified hotel
2015 TripAdvisor Travelers' Choice Award – Top Hotels - #3 in the U.S.
2015 TripAdvisor Travelers' Choice Award – Top Luxury Hotels - #3 in the U.S.
2015 TripAdvisor Travelers' Choice Award – Top Romantic Hotels - #4 in the U.S.
2014 Travel + Leisure – T&L: The World's Best Hotels - #21 in Continental U.S.
2014 Andrew Harper's Readers Choice Awards - #9 Top Food & Wine Resort
2014 TripAdvisor Travelers' Choice Award – Top Hotels - #2 in the U.S./#24 in the World
2014 TripAdvisor Travelers' Choice Award – Top Luxury Hotels - #3 in the U.S.
2014 Condé Nast Traveler – Gold List
2013 Andrew Harper's - Annual Grand Awards List
2013 Travel & Leisure – T&L 500: The World's Best Hotels - #3 in the U.S.
2013 Conde Nast Johansen – Award of Excellence – Most Excellent Eco Hotel in the World
About Tesla
Tesla Motors' (NASDAQ: TSLA) goal is to accelerate the world's transition to sustainable transport with a full range of increasingly affordable electric cars. California-based Tesla designs and manufactures electric vehicles as well as renewable energy storage. Tesla has delivered more than 80,000 electric vehicles to customers worldwide.
About Model S
Model S is the world's first premium sedan built from the ground up as an electric vehicle. It has been engineered to deliver unprecedented range and a thrilling drive experience. Model S is the world's fastest-accelerating four-door vehicle ever built and has a range of 270 miles on a single charge.
With a rigid body structure, nearly 50/50 weight distribution and a remarkably low center of gravity, Model S offers the responsiveness and agility expected from the world's best sports cars while providing the ride quality of a luxury performance sedan. Model S has received many awards and accolades, including Motor Trend 2013 Car of the Year©, Car and Driver 10 Best 2015, AUTOMOBILE Magazine 2013 Automobile of the Year, the 2013 Yahoo! AUTOS Car of the Year, TIME's Best Invention of the Year 2012, Consumer Reports' highest score ever given to a car, and a NHTSA 5-star safety rating.