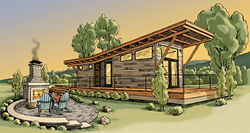 Traverse Bay Resort Tiny House Estates is offering tiny home living with all of the amenties of a resort community.
Jackson Hole, Wyo. (PRWEB) June 30, 2015
Wheelhaus is proud to announce its exclusive partnership in a new tiny house community at Traverse Bay Resort in Traverse City, Michigan. Called Tiny House Estates, this new community is offering 81 homesites available for tiny homes. Buyers will be able to choose between two different Wheelhaus designs with the option to add an additional bunk house. The 150-acre Traverse Bay Resort includes clubhouse, pool and spa, tennis courts, fitness center and is adjacent to the legendary Grand Traverse Resort Spa & Casino. Prices for estate lots with Wheelhaus tiny house plus a bunk house and brick patio start at $229,000. To learn more visit http://www.traversebayrv.com/tinyhouses/wheelhaus-information.php.
Wheelhaus is 'tiny house' company from Jackson Hole, Wyoming that designs and builds several different styles of cabins. Wheelhaus cabins are designed and built with an emphasis on space management and durability offering ceiling heights soaring to 17', windows designed to let in light while maintaining privacy, timber frame roof system, wood floors and siding, glass showers with tile floors, outside deck space, and high-end fixtures, windows, and cabinets.
Tiny House Estates at Traverse Bay Resort will offer two different Wheelhaus designs, Caboose and Railcar. Railcar offers a rustic/contemporary 400 square foot design with one bedroom, bathroom, kitchen/living room and a private deck. Caboose offers an additional loft space. Both floorplans include outdoor living space with covered front and rear porches.
The new Tiny House Estates is located in a private area in Traverse Bay Resort and is reserved exclusively for Wheelhaus tiny houses. The development is offering 81 Tiny House Estate Lots with a minimum of 5,000 square feet each. All Tiny House Estate Lots are private view lots overlooking a scenic wooded valley or cascading ponds with fountains. In addition to the Wheelhaus tiny house on each lot, a 200 square foot, custom-built "Bunkhouse" that compliments the rustic Wheelhaus design can be added to the lot and finished to individual needs for extended living space, outdoor toys, guest quarters or storage. Each lot also includes a brick patio for additional outdoor enjoyment.
Traverse Bay Resort is located just minutes from downtown Traverse City and is adjacent to the legendary Grand Traverse Resort Spa & Casino with three signature golf courses. The resort is also only minutes away from the East Grand Traverse Bay beaches and Torch Lake or Elk Lake.
About Wheelhaus:
Wheelhaus designs and builds tiny house with the highest standards of sustainable building and innovative design. Wheelhaus cabins are a blend of rustic and modern; combining the durability and quality craftsmanship of a log cabin with a modern focus on energy efficiency, innovative design, progressive space management, and top of the line building materials. Wheelhaus cabins exceed the requirements for the Gold standard with the U.S. Green Building Council. See all of the designs and floorplans at http://www.wheelhaus.com.