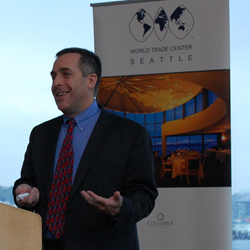 Assuming you know what "Localize" means in your target market is often the biggest mistake...
World Trade Center, Tacoma, WA (PRWEB) July 01, 2015
David Dallaire, an experienced marketing executive who has worked with some of the world's leading Brands in cosmetics, healthcare, automobiles, telecoms and other industries across the Asia-Pacific region, will be speaking to a multi-national audience on his experience making foreign Brands successful in Asia (Register Here).
"The Perils of Localization: Building an Authentic Export Brand" will show how common assumptions about "localization" when entering new markets can lead many businesses astray and are sometimes just as much a result of not understanding the local market as those Brands who don't bother to localize at all.
In addition to founding the MRM agency in Japan as part of the McCann Worldgroup and launching the initial Japan operations for both L.L. Bean and Lands' End in Japan, David's current focus is on helping smaller, successful business and manufacturers take the next step and get on a path to growth to the next level, including international expansion.
For a more in-depth look at his experience in this space, download his whitepaper "The Authenticity Factor for Foreign Brands in Japan"
Sponsored by the World Trade Center of Tacoma (President & CEO, Louise Tieman), David will join a number of other speakers and panelists speaking on topics of contracts, trade finance and investments, EB-5, and China Trade Programs including Nancy Li of East-West Bank, Pradnya Desh of Desh International PLC and Andrea Holtan of the Rafiki Trade Group. The World Trade Center in Tacoma provides high-impact services for export-minded businesses via their Trade Desk, Research Team, Trade Missions and Trade Consulting.
Registration is open to the public and cost varies depending on the programs attended. All attendees and the public are welcome to join a Summer Wine Social after the end of programs on the Tuesday, the 14th (Register Here).
About Fennec Marketing Group
Fennec Marketing Group was founded in 2010 with the expressed aim of creating "Customer-First" excellence in its clients businesses through Branding, Content Marketing and Product Development. By holding a firm line on the question of "Strategy vs. Execution?" with the response "Strategy first, then execution" Fennec Marketing Group excels at making strong Brands for businesses big and small and helping them execute more efficiently and grow faster with better Lead Generation and Marketing-driven Product Development.
David Dallaire has worked in executive marketing roles and in customer-facing operation roles for Fortune 100 Brands all over the world, providing a unique set of experiences he is now able to leverage for his clients. He can be reached directly at david(at)fennec(dot)co.