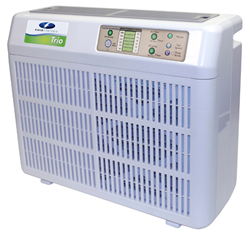 TRIO 1000P certainly adds to our wide array of quality air purifiers with it's user-friendly, highly effective purification technology at an affordable price. We are proud to introduce it to our selective product line.
Peoria, IL (PRWEB) July 03, 2015
Earlier this week, US Air Purifiers, LLC, a Midwestern firm specializing in air purification systems for both residential and commercial use, announced the addition of the Field Controls Trio 1000P to its inventory. This is the first Field Controls product offered by the company, and is one of the highest quality portable air purifiers in the industry.
The Trio 1000P is a medical grade portable air purifier designed with 4 stages of air purification technology; a pre-filter, an additional medical grade HEPA filter with activated carbon, UVC germicidal lamp and a Photocatalytic Oxidation grid that functions to remove Volatile Organic Compounds (VOC's) and odors. This unit is unique because Field Controls holds seven (7) patents on the PCO technology, application process of applying the Titanium Dioxide catalyst , and the PCO grid system. The TRIO Portable has a built in chemical sensor to sense airborne VOC's and automatically ramp up fan speed to accommodate for increased contaminant levels. This unit provides a unique and comprehensive approach to improving indoor air quality by filtering contaminants, neutralizing molds, viruses, and bacteria, and reducing VOC's and odors.
The unit has an overall coverage rating of 1000 square feet, and has been shown to reduce particulate matter in the air by up to 99.9% in as little as one cycle. The fully electronic, user-friendly control panel is equipped with an automatic control system will increase and reduce fan speed as needed based upon the environment and the level of VOCs present within it.
To celebrate Independence Day and promote the launch of this product, US Air Purifiers LLC has decided to offer a $100 savings on the unit. This offer will last from July 4th until the 7th, and can be taken advantage of by entering the coupon code UV100 at checkout on the firm's website at http://www.USAirPurifiers.com.
About the Business:
Barb and Dick Lulay's customers are passionate about naturally reducing their risk of disease. Their customer service and product expertise make shopping with http://www.USAirPurifiers.com and http://www.OttersDream.com an ideal experience. With a full line of natural products such as air purifiers, natural supplements, green cleaners, weight management and paraben free skin care, families find they can conveniently do their household shopping online with home delivery. As successful business owners, the Lulays offer a mentoring program for other aspiring entrepreneurs. They present exceptional marketing tools and a training program that shows how to generate immediate income as well as long term passive income.