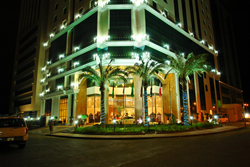 "The BEST WESTERN PLUS Doha Hotel is the latest in a long line of new hotels in our very active pipeline in the Middle East" said SVP Intl. Operations Suzi Yoder
Istanbul (PRWEB) July 01, 2015
Best Western International has reached another landmark in its international expansion, with the launch of the company's first ever hotel in Qatar. The four-star BEST WESTERN PLUS Doha Hotel located in Doha, Qatar, is the ninth Best Western operating in the Middle East.
"The BEST WESTERN PLUS Doha Hotel is the latest in a long line of new hotels in our very active pipeline in the Middle East. We currently have 12 hotels in various stages of construction in the region and are delighted with the quality of this latest addition in Qatar which is an interesting market for our future brand development for many reasons including the 2020 FIFA World Cup," said Best Western's Senior Vice President of International Operations Suzi Yoder.
The BEST WESTERN PLUS Doha Hotel is located in the central business district of Doha which is ideal for visitors who want to be within walking distance of the popular tourist spots and the prime commercial center. The property, which is just 1 km away from Museum of Islamic Art and 13 km from Hamad International Airport, features 227 guest rooms, including 187 suites.
The BEST WESTERN PLUS Doha Hotel has an eclectic mix of dining outlets serving a wide selection of cuisines and drinks tailored to suit every palette. The hotel also offers comprehensive health, fitness and recreational facilities, the highlight of which is the SENSE Spa which is designed to be both tranquil and revitalizing; it offers an array of relaxing and invigorating therapies and treatments.
For corporate travellers, The BEST WESTERN PLUS Doha Hotel provides a full suite of conference and banqueting facilities including a business centre.
To learn more about this hotel or discover other Best Western hotels across the world, visit http://www.bestwestern.com.
ABOUT BEST WESTERN INTERNATIONAL, INC.
Best Western International, Inc., headquartered in Phoenix, Ariz., is a privately held hotel brand with a global network of 4,000+* hotels in more than 100* countries and territories worldwide. Best Western offers six hotel products to suit the needs of developers and guests in every market: BEST WESTERN®, BEST WESTERN PLUS®, BEST WESTERN PREMIER®, BEST WESTERN PLUS EXECUTIVE RESIDENCY℠, Vīb℠ and BW Premier Collection℠. Now celebrating 69 years of hospitality, Best Western provides its hoteliers with global operational, sales and marketing support, and online and mobile booking capabilities. More than 25 million travelers are members of the brand's award-winning loyalty program Best Western Rewards®, one of the few programs in which members earn points that never expire and can be redeemed at any Best Western hotel worldwide. The brand's partnerships with AAA/CAA, Minor League Baseball, and Harley-Davidson® provide travelers with exciting ways to interact with the brand. Best Western continues to set industry records and accolades, including Business Travel News naming BEST WESTERN and BEST WESTERN PLUS as the best mid-price and upper mid-price hotel chains, four consecutive Compuware Best of the Web gold awards for best hotel website and six consecutive AAA/CAA Hotel Partner of the Year awards. Best Western branded hotels worldwide won four times more TripAdvisor Certificate of Excellence awards than industry average.
*Numbers are approximate and can fluctuate.