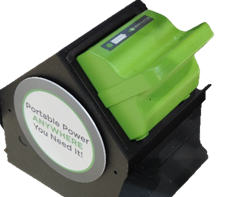 This power supply will truly be the first one designed for industrial and logistics work environments...
Middleton, MA (PRWEB) June 30, 2015
Coming in August, Newcastle Systems, the leader in Industrial-use Mobile Workstation Equipment, will be launching its new Lithium-based power system and is now making previews available.
Be the first to get the release info: data, pricing, availability and test client testimonials here.
For the first time in the industry, Newcastle Systems will offer an innovation in mobile power that massively reduces cart weight relative to SLA systems, provides cycles in excess of 5-7X other Lithium chemistries, and unlike most of the existing Lithium products in use in some warehouses today, was NOT made for hospital environments, but is robust and durable enough for the industrial purposes it is needed for in the warehouse, manufacturing floor, receiving docks, retail floor or any other part of your operations.
Registration for an advance preview with final pricing and results of initial trials from major national retailers and logistics companies is now available here.
\
About Newcastle Systems
Newcastle Systems is an innovator of workplace mobility solutions for many of the world's leading retail and operations companies. As the leading provider of Mobile Workplace© solutions, Newcastle Systems provides the means to dramatically improve employee and facility productivity without major changes to your infrastructure, software or processes. A Newcastle Systems' Mobile Workplace© facility requires less equipment and less power to do the same work as a standard workplace configuration.
Newcastle Systems is a "Customer-First" Business whose philosophy is "Provide innovative solutions that make equipment more mobile and information more readily available across an entire enterprise. Period."
For more information: Please visit our website at http://www.newcastlesys.com or direct inquiries to us by phone at 781-935-3450 or by e-mail at sales(at)newcastlesys(dot)com.