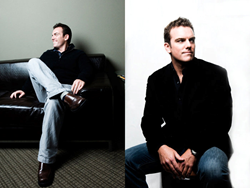 Brendan is recognized by his fellow EO members as a leader who lives the EO vision of business growth, personal development and community engagement
San Diego, CA (PRWEB) July 01, 2015
Entrepreneurs' Organization (EO) of San Diego named member Brendan J. Smith as "Entrepreneur of the Year" during their annual meeting on Saturday, June 13, 2015 in Palm Springs, CA. Smith started Motive Interactive, Inc. in 2004 as an online marketing company. Being a constant innovator, Motive has transformed its business model several times since the beginning. Today, Motive is globally recognized for its mobile advertising, user acquisition, and programmatic media buying for app developers. In a recent ranking by app tracking platform Tune, Motive was ranked #3 out of 25 mobile advertising companies for quality mobile traffic and advertiser retention following Twitter and Google respectfully.
"Brendan is recognized by his fellow EO members as a mobile ad tech expert and leader who lives the EO vision of business growth, personal development and community engagement," stated Les Kollegian, Jacob Tyler Brand Communications CEO and EO San Diego Board Member. "He exemplifies the EO core values each day."
"Having worked closely with Brendan over the years I was excited to see him chosen for the 2015 entrepreneur of the year award. His natural ability to create a compelling company culture, dedication to servant leadership, and a humble personality are so unusual with business leaders today and the success of Motive in such a competitive industry as mobile advertising is a testament to his hard work and entrepreneurial spirit " Notes Ryan Landry Vice President & GM New Horizons CLC of Southern CA and Southern AZ.
Motive has a history of strong growth and reputation of innovation in the digital media and mobile marketing space. Motive has been repeatedly recognized as one of the fastest growing companies by; Inc Magazine, Deloitte, Entrepreneur Magazine, and American Business Awards. In June of 2015 Motive received four Gold Awards at the Annual Globee® Fastest Growing Private Companies in America Awards in San Francisco, CA for Customer Base Growth, Profits Growth, Sales Revenue Growth, and an impressive Revenue per Employee Growth of over 1.3 million per employee.
About Motive Interactive, Inc.
Motive Interactive is a global Mobile Ad Platform, Mobile Agency, and Mobile Ad Network that focuses on providing quality user acquisition and programmatic media buying for brands in some of the most competitive verticals. Motive supports its growing client base with technical machine learning innovation and strong industry experience.
About EO
The Entrepreneurs' Organization (EO) is a global, peer-to-peer network of more than 10,000+ influential business owners with 143 chapters in 46 countries. Founded in 1987, EO is the catalyst that enables leading entrepreneurs to learn and grow, leading to greater success in business and beyond.