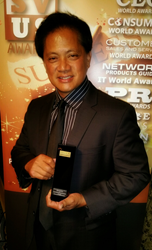 Our growth has been consistent and strong over the years due to an amazing team that is100% focused on client success
San Diego, CA (PRWEB) July 01, 2015
Mobile Ad Platform Motive Interactive has earned the prestigious Globee® Fastest Growing Private Companies in America impressively in four out of the six categories: Customer Base Growth, Profit Growth, Sales Revenue Growth and Revenue per Employee Growth.
The coveted annual Globee Awards program encompasses America's best in Customer Base Growth, Partners and Distribution Growth, People Growth, PR and Marketing Growth, Products and Services Growth, Profits Growth, Revenue per Employee growth, Sales Revenue Growth, Service and Support Growth, and Strategic Alliance Growth. Private organizations from all over America are eligible to submit nominations which are evaluated based on growth and merit.
The winners were honored during an awards dinner and presentation on June 29, 2015 in San Francisco attended by fellow nominees, industry leaders, and judges.
Motive has a history of strong growth and a reputation of innovation in the digital and mobile marketing space. Along with being recognized with four Globee® Awards Motive has also been repeatedly recognized as one of the fastest growing companies by: Inc Magazine, Deloitte, Entrepreneur Magazine and the American Business Awards. Motive's CEO Brendan J. Smith, along with Vice President of Business Development Mike Schwartzberg made the risky decision to completely transition the business from online media to mobile marketing and a mobile ad platform in 2011. A strategy that has positioned the company as recognized leader in the mobile advertising and programmatic media buying space with amazing growth potential tried–and–true knowledge that comes hard to find in such a young industry.
Founder and CEO, Brendan J. Smith says, "It's a great honor to be recognized for our growth in so many categories. As a CEO who likes businesses lean and efficient, I'm most proud of our ability to secure such high revenue growth per employee". Smith continued, "Our growth has been consistent and strong over the years due to an amazing team that is100% focused on client success, a difficult task in the challenging and emerging area of mobile marketing, user acquisition, machine learning and programmatic media buying."
About the Globee Awards
Globee Awards are part of SVUS Awards and were created to honor and generate industry-wide and peer recognition of private organizations in every industry that exhibit fast growth in one or several key areas each year. Learn more about the Globee Awards at http://www.globeeawards.com
About Motive Interactive
Motive Interactive is a global Mobile Ad Platform, Mobile Ad Network, and Mobile Ad Agency with a focus on providing quality user acquisition and programmatic media buying for brands in some of the most competitive verticals. Motive supports its growing client base with technical innovation in machine learning and strong industry experience. Learn more about Motive Interactive at http://www.motiveinteractive.com