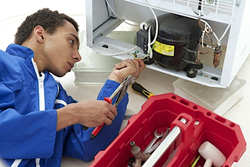 Showcasing the strengths and best features of a house is the key to selling it and getting top dollar
Chicago, IL (PRWEB) July 01, 2015
For the most part, neither first-time home buyers or retirees looking to downsize will be impressed by a home that needs a lot of work. The Federal Savings Bank knows that sellers will likely lose out on reaching a wider audience and receiving offers if they avoid fixing up their home.
The following are a few tips for making some worthwhile repairs before listing a home
Make the unit ready to pass a home inspection
It's important that those selling a home keep in mind buyers will have a home inspection completed. This will reveal any problems or broken features on a property. If a buyer is still interested in purchasing the house, they will likely use the issues during the negotiation and sellers will have to cover the cost of repairs anyway. For this reason, it is better for those selling homes to put their best foot forward when listing a home by having the building in tip-top shape.
Fix issues ahead of time so the sale can be completed faster
A faster sale and the highest selling price will often occur if the interested buyer doesn't find major problems with a home. This is especially important if the sellers of the house need to close quickly because they have to balance another mortgage.
Planning ahead of time and ensuring a home is ready for buyers to move in will help move the sale along.
Highlight the best features of the property
When interested potential buyers aren't looking at the peeling paint or distracted by the squeaky door, they can focus on what sellers are trying to sell. Showcasing the strengths and best features of a house is the key to selling it and getting top dollar after the papers are signed and a price is agreed upon.
Ensuring the house is in mint condition will help during the negotiation of the selling price.
Make sure the job is done right
Because sellers may need to try and repair things quickly, the price of the services will likely rise. In addition, the quality might not be up to standards. When selling a home, individuals need to ensure they list a home they can be proud of. Getting repairs done prior to listing ensures the best experience for sellers.
Contact The Federal Savings Bank, a veteran owned bank, to learn more about mortgages.