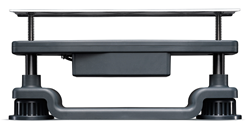 Guderup, Denmark (PRWEB) July 02, 2015
The French kitchen manufacturer You Cuisines et Bains received the Innovation trophy at the SADECC kitchen trade fair 2015, in Lyon for a height adjustable kitchen concept. A key part of this concept was the LINAK product Baselift, which enables the adjustability of the kitchen island.
For several months, LINAK and You Cuisine et Bains collaborated on "project evolutif" (project evolutionary) where the aim was to meet the new trends and market demands such as ergonomics and comfort. This resulted in a height adjustable innovative French kitchen concept where ergonomics and comfort is key.
Height adjustability is possible by incorporating the Baselift solution in the base of the kitchen island. The Baselift makes the kitchen island adjustable up to 100 mm. Furthermore, incorporating the Baselift actuator in the base does not influence storage space in the cabinets.
You Cuisines et Bains received the award at the SADECC trade fair 2015, which took place in Lyon on the 10–13 April 2015. The SADECC trade fair has the highest concentration of manufacturers of equipment for the kitchen. Large varieties of kitchen designs were exhibited at this fair. At their stand, You Cuisines et Bains presented a height adjustable kitchen with the LINAK product Baselift incorporated in the base.
By awarding the Innovation Trophy to You Cuisines et Bains, the SADECC trade fair 2015 acknowledges the innovative nature of a height adjustable kitchen, and the necessity of adjustable solutions in the future.