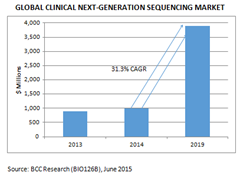 The global clinical next-generation sequencing (NGS) market is expected to reach $3.9 billion by 2020.
(PRWEB) July 01, 2015
The next-generation sequencing (NGS) clinical market is poised for huge growth as it prepares to enter several key market segments, including the molecular diagnostics industry. BCC Research reveals in its new report that the market drivers of this vibrant industry include increased payor acceptance of NGS-based tests, lower test costs, and a growing need for better diagnostics as part of a molecular diagnostics trend.
The global market is forecast to grow at a compound annual growth rate (CAGR) of 31.3%, from $997.1 million in 2015 to nearly $3.9 billion by 2020.
Two key market segments are reproductive health and cancer. The market for reproductive health applications is $572.9 million in 2015 and growing at a CAGR of 24.8% to reach a forecast value of $1.7 billion by 2020. Reproductive health applications include noninvasive prenatal screening (NIPT), newborn screening and preimplantation screening tests. NGS has enjoyed recent success in these markets, particularly NIPT. For NIPT, NGS offers significant clinical benefits, including no risk of miscarriage, high accuracy and reliability, and use early in the pregnancy.
NGS-based diagnostics for cancer also present a major market opportunity. The market for NGS-based cancer applications is $206.3 million in 2015 and growing at a CAGR of 34.7% to reach a forecast value of $915.7 million by 2020. Among the growth drivers in the cancer market are multi-gene screening panels, liquid biopsy tests for cancer monitoring, targeted cancer panels for diagnosis and therapy guidance, and universal companion diagnostics.
"The launch of next-generation sequencing technologies radically changed the structure of the industry and opened up exciting new market applications. The costs of sequencing have rapidly reduced to the point where it is now feasible for complex NGS tests to be priced in the range of other multiplex genetic tests," says BCC research analyst John Bergin. "As a result, opportunities emerged in clinical applications that are currently reaching fruition. The NGS clinical market is beginning to establish a foothold in the molecular diagnostic industry and holds great commercial promise. More than 85 clinical laboratories are now offering NGS-based testing services.
Next-Generation Sequencing: Emerging Clinical Applications and Global Markets (BIO126B) examines the sequencing industry structure for key market segments, discusses strategies of key players, and presents global market trends, with data from 2014, estimates for 2015, and projections of CAGRs through 2020.
Editors and reporters who wish to speak with the analyst should contact Steven Cumming at steven(dot)cumming(at)bccresearch(dot)com.
About BCC Research
BCC Research publishes market research reports that make organizations worldwide more profitable with intelligence that drives smart business decisions. These reports cover today's major industrial and technology sectors, including emerging markets. For more than 40 years we've helped customers identify new market opportunities with accurate and reliable data and insight, including market sizing, forecasting, industry overviews, and identification of significant trends and key market participants. We partner with analysts who are experts in specific areas of industry and technology, providing unbiased measurements and assessments of global markets. Recently selected as the world's greatest market research company, BCC Research is a unit of Eli Global, LLC. Visit our website at http://www.bccresearch.com. Contact us: (+1) 781-489-7301 (U.S. Eastern time), or email information(at)bccresearch(dot)com.