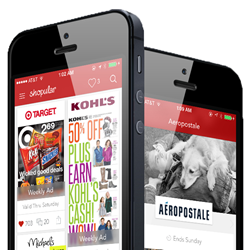 "Shopular offers mobile consumers a great way to capture the strongest retail savings at their favorite brand stores this July 4th weekend."
(PRWEB) July 01, 2015
The upcoming July 4th weekend is one of the hottest recreational seasons of the entire year – and it's also a great opportunity to capture big savings while shopping with the help of your smartphone. Shopular, the top mobile shopping app on Apple iTunes and Google Play, is thrilled to bring consumers "freedom" from paying higher prices at the retail checkout counter by delivering out-of-the-ballpark savings to consumers this Fourth of July.
The Shopular app sends geo-targeted deal alerts to on-the-go mobile users on timely retail sales offers at up to 40,000 stores across the U.S. – and it lets consumers select their favorite brands and now also shop by hot products, as well as stores.
And, just in time for the big weekend, here are five "Red Hot Facts" about Fourth of July shopping that make this upcoming 2015 holiday a must shop weekend!

While it's often overshadowed by Memorial Day and Labor Day, July 4th is actually one of best shopping opportunities of the entire year. According to Time magazine, Fourth of July retail savings in the past have topped 43 percent off full price. That equates to real savings for American shoppers and their families!
According to the National Retail Federation, more than 20% of Americans buy a new patriotic clothing item just for the Fourth of July celebration. And, if this year looks to be anything like last year, Americans spent an astounding $6.2 billion overall celebrating July 4th in 2014 – making the Fourth weekend a powerhouse time to save.
Are you traveling this July 4th? According to AAA, approximately 41 million Americans did over this same holiday weekend last year. And mobile couponing apps that use geo-location deal alerts are ideal for families (especially parents of little ones) who need to pick up sundries or forgotten items while on the road, or who simply would like to find the best shopping bargains in an unfamiliar town.
There are certain merchandise categories for July 4th that will be hotter this year than the sizzling summer temperatures. Consumers can expect to find great deals on winter and spring clearance items; summer fashion items (swimwear, warm weather clothing and footwear); videogames and videogame consoles (a big summer pastime for kids out of school); and patio/barbecue gear and outdoor furniture (as retailers ready store floor space for Back-to-School inventory). According to Forbes magazine, July 4th is unique because it's one of the only holiday shopping times when you can find strong savings on items still in season.
And, it looks like Uncle Sam will "go mobile" like never before this Fourth of July holiday. Up to 90 percent of respondents in Shopular's recent Consumer Shopping Study on mobile shopping behavior indicated they would buy more if they could take advantage of mobile-generated retail savings!
For more information and shopping ideas, please visit Shopular.com.