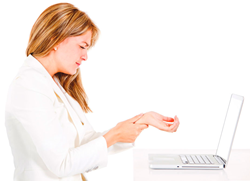 New York, NY (PRWEB) July 02, 2015
Breakthrough technologies are now available in New York City for Carpal Tunnel treatment and wrist pain treatment. Dr. Lev Kalika, founder of New York Dynamic Neuromuscular Rehabilitation & Physical Therapy Clinic – NYDNRehab – and a leading international authority on the conservative treatment of back, hip, knee and shoulder pain as well as sports injury disorders, announced that NYDNRehab is combining non-invasive ultrasound diagnosing with innovative focused shockwave therapy, radial shockwave therapy and acupuncture needling techniques for Carpal Tunnel treatment and wrist pain treatment.
Dr.Kalika's announcement distinguishes NYDNRehab as the only clinic in New York City that offers its patients these technologies for Carpal Tunnel treatment and wrist pain treatment to achieve long-term relief from the chronic pain and debilitating effects of Carpal Tunnel syndrome -- CTS.
CTS is a common affliction among working-aged people and occurs with greater frequency among post-menopausal women. It is often caused by occupational activities of a repetitive and strenuous nature, such as typing on a computer keyboard and using hand-held power tools.
The continual flexing and straightening of the wrist can cause damage to the median nerve as it passes through the carpal tunnel in the wrist. The carpal tunnel wall can constrict from repetitive and strenuous motion of the wrist and squeeze against the median nerve, causing inflammation of the median nerve – hence the term, "Carpal Tunnel syndrome."
Typical CTS symptoms can include:
Swelling and numbness in the fingers
Pain that becomes severe pain at night
Tingling or burning sensation in the thumb, index and middle fingers
Swelling in the fingers
Inability to grip objects, or manipulate small objects.
The National Institutes of Health reported a recent survey of 300 specialist physicians and surgeons who received a questionnaire asking them to rate the importance of 57 clinical criteria for the diagnosis of CTS. The survey results showed poor rating consistency both across and within specialties in the importance the specialists and surgeons assign to clinical criteria for the diagnosis of CTS.
This poor importance rating inconsistency carries through in reported prevalence and CTS treatment variations.
Because of inconsistent and often conflicting CTS diagnosing criteria, ensuing treatments likewise vary widely, depending on the diagnosing physician. Surgery is the ultimate treatment of last resort for CTS, but surgery is not without its attendant risks – infection, nerve damage, stiffness, loss of strength, and pain at the scar. Non-invasive treatments for less severe cases of CTS, include using a wrist splint or brace to immobilize the wrist, steroid injections and alternative medicine.
Unfortunately, these treatments – including surgery – are short-term remedies that address CTS symptoms. They do not cure CTS, because they fail to correct the underlying problems that lead to CTS. Moreover, there's a paucity of clinical evidence to support the efficacy of alternative medicine for CTS.
Long-term remedies depend on locating and eliminating the obstructions in the carpal tunnel causing compression of the median nerve. Most standard CTS diagnoses only confirm the existence of obstructions causing CTS without identifying what the obstructions are or where they're located.
NYDNRehab is the only New York clinic that combines non-invasive ultrasound diagnosing with innovative focused shockwave, radial shockwave and acupuncture needling techniques for precision accuracy in locating the cause of CTS and affecting long-term remedies that eliminate the need for surgery.
NYDNRehab uses ultrasonography or feedback response to low energy focused shock waves to map tissue density change in the carpal tunnel of the affected wrist and identify the causal CTS obstruction trigger points. Suspected muscle-pain trigger points are detected by the pain feedback of sound waves hitting the pain trigger-point area. Acupuncture needling is then used to eliminate the obstructions. This is followed immediately by focused shock waves to stimulate an increase in blood circulation which allows for self-regeneration of damaged nerve tissue caused by the CTS muscular compression. The radial shockwaves are used immediately after for surrounding musculature to decrease the external pressure to the carpal tunnel.
The NYDNRehab CTS exploratory-treatment process allows for the detection of pain trigger points at different muscle-tissue depths. Some pain trigger points are buried so deep in muscle tissue, they cannot be treated by manual techniques or focused shockwaves. In instances of deeply embedded pain trigger points, NYDNRehab uses either FSW or acupuncture needling, depending location and anatomy.
Unlike classic CTS muscle treatments, FSW therapy has long-term superiority precisely because it induces muscle tissue regeneration and stimulates nociception reduction – the small pain receptor fibers that encode and process harmful stimuli in the nervous system by sending pain signals to the brain.
Moreover, NYDNRehab employs Extracorporeal Pulse Activation Treatment – radial pressure waves – to complement needling and FSW treatments. EPAT uses pressure waves to produce a smoothing effect on larger muscles, thereby increasing blood and nutrient flow to CTS-damaged muscle tissue and accelerating the natural self-healing process. With healing comes a substantial reduction in pain sensations.
"In our experience, we maintain that using manual fascial release has much better results in combination with EPAT/ESWT and acupuncture/dry needling that targets the muscle tissue directly," said Dr. Kalika of NYDNRehab. "Our patients have a much better rate of success with this combined approach than using either one of them separately. We have perfected this elaborate combination into a very effective treatment method."
NYDNRehab strives to provide the best, most advanced care for their patients. For more information on how NYDNRehab can help you decrease chronic lower back pain please call us 866-311-5889 or visit us online at http://nydnrehab.com