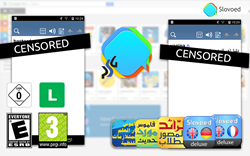 Freiburg, Germany (PRWEB UK) 2 July 2015
Paragon Software Group (PSG), developer of dictionary apps - the trusted line of dictionaries and reference applications for mobile devices, tablets, and PCs - is happy to announce that all dictionary apps have passed the new global rating by Google Play. Different countries have different ideas of what content is appropriate for children. The International Age Rating Coalition (IARC) this year introduced a new global rating system that has been adopted by Google Play making it easier for parents to determine which apps are unsuitable for their children. Under the Google Play Developer Distribution Agreement, all apps had to be rated according to the new global age-based rating system based on local standards. The IARC has five members onboard – the Australian Classification Board, the Brazilian Classificação Indicativa (ClassInd), the American Entertainment Software Rating Board (ESRB), Pan European Game Information (PEGI) for Europe and Middle East, and the German Unterhaltungssoftware Selbstkontrolle (USK) serving a total of 1.5 billion people and making it possible to provide age-based ratings specific for each region under their local laws and customs. The new rating system places the app in one of several age groups, making the app ratings more specific. If the app rating is not provided, that app will be taken out of the Google Play in that country.
One of the rating categories questions whether the app contains violent content or strong language. The new rating system fits games and movies perfectly well but is it suitable for dictionaries?
Dictionaries usually cover vocabulary from various fields, including human anatomy and physiology, medical terminology, slang, vulgar expressions, and so on. Furthermore, many of the anatomical descriptions require accompanying pictures for better explanations. With the introduction of a very scrupulous rating system, it became a challenge for developers and content providers of reference apps to determine how to rate their products due to varied content.
With more than 3000 dictionary apps on the mobile market, Paragon Software Group is the world's largest dictionary developer. Paragon's dictionaries can be purchased anywhere in the world. Paragon Software Group and its publisher partners across the globe evaluated dictionaries and rated them in accordance with local customs and cultural peculiarities.
After evaluation, it has been determined that Paragon's apps pass the most stringent age-limit criteria from the IARC and its affiliates. Perhaps surprisingly, most dictionary apps were found suitable for children of all ages and are rated 0+, even in the Arabic countries known for the strictest requirements. One reason is that the pictures accompanying some sensitive terminology in Paragon's apps are sketches rather than detailed diagrams or photographs.
The content of Paragon's Arabic dictionary apps by the publishing houses Dar El Ilm Lilmalayin and Librairie Orientale satisfy the legal requirements of the Arab countries. For example, the terms "penis" and "marijuana" do not stop dictionary apps in Arabic countries be labeled as 0+ as they provide translations without any pictures or detailed descriptions.
With the new rating for each dictionary app, parents will now be able to see which product includes sensitive terminology to help determine whether the app is suitable for their children or not. None of Paragon's dictionaries include emotional or lengthy descriptions of violence and from the cursing lexicon; only general jargon phrases are included. Dictionaries that include, for example, anatomical topics covering the subject of health or inappropriate slang are now rated accordingly and, thanks to the new system, will not fall into the field of view of customers within the appropriate age limit in each country. Dictionary apps with the word "pornography" and other sensitive terms are downgraded and labeled as not suitable for children.
Despite the new global rating system, it is still possible for children to reach adult-only content. Therefore, it is recommended for concerned parents to set up parental controls on Android smartphones and tablets.
How to use parental controls on Android
On Android 2.2 and above, in the "Settings" menu in your Google Play account go to "User Controls" and choose the "Content Filtering" option. Tap on it, mark "On" and "Apps & Games." Select the "Rated for 3+" option. You can also set the restriction for movies in the same way.
Additionally, you can enable the required authorization for all purchases through Google Play. To do so, go to "Settings" in the menu in your Google Play account. Select "User Controls" and tap on the option "Require authentication for purchases." Select "For all purchases through Google Play on this device."
About Paragon Software Group
Paragon Software Group is an innovative software developer focused on two dynamic growth markets. The company's comprehensive product line for the data storage market addresses the needs of data security, storage and management for PCs, servers and networks. A second portfolio of products focuses on mobile productivity applications for handheld devices. Founded in 1994, Paragon Software Group has offices in the USA, Germany, Japan, Poland, Russia and China delivering its solutions to consumers, small business and enterprise clients worldwide through a network of Value Added Resellers, distributors and OEMs as well as online through the company website. For more information please visit the company's mobility division site: http://www.slovoed.com