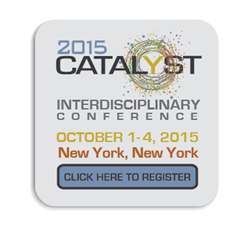 Now you have the opportunity to enjoy a top quality professional conference at pricing that is unparalleled given its robust content. Andrew Samalin, ADFP President
New York, NY (PRWEB) July 03, 2015
The Interdisciplinary Catalyst Conference is designed to help committed divorce professionals network for new ideas and to reach a new level of understanding in their field. The conference's opening reception on the evening of Oct. 1 will feature keynote speaker Jean Chatzky, a leading financial journalist, personal finance expert, and best-selling author. Chatzky has appeared on Oprah, Live with Regis and Kelly, and on The View. The ADFP is excited to be able to offer her insights.
The conference will also feature over 50 presentations & workshops given by distinguished members of the divorce community. Presentations will include Preconference Institutes, Interdisciplinary and Comparative Panels, keynote addresses and breakfast meetings on a wide variety of topics.
"The ADFP and CMT is thrilled to have such a robust program for the 2015 Catalyst Conference. To help manage pricing for our participants, we are pleased to offer Early Bird pricing. Now you have the opportunity to enjoy a top quality professional conference at pricing that is unparalleled given its content. We welcome all those that have taken advantage of this and hope other like-minded professionals join in before the price increase." - Andrew Samalin, ADFP President
The conference will take place at the Holiday Inn Midtown. A discounted Early Bird registration is open now through July 15, 2015. Full registration runs through July 30, 2015. For more information, interested parties can visit http://www.DivorceCatalystConference.com.
The ADFP is an interdisciplinary association of professionals who research and analyze personal and business financial issues, as well as tax implications, related to divorce. The association develops outreach programs, and training and continuing education opportunities for financial practitioners, allied divorce professionals and the general public. The organization plays a key role in policy making regarding divorce financial issues. The ADFP holds its members to high standards in professional and ethical protocols in the U.S., Canada and other countries. Comprehensive information on the ADFP can be found at http://www.divorceandfinance.org.