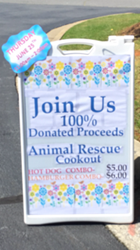 Dogs and cats are a gift, and it is our responsibility to be good stewards.
Marietta, GA (PRWEB) July 07, 2015
The professionals from Verde Pointe Dental Associates and Marietta Vet Clinic hosted a packed house cookout on June 25, 2015. One hundred percent of proceeds were donated to local pet rescue Mutt Madd-ness, a 501(c)(3) organization. Dentists Kirk Kimmerling DDS, Suzanna Aguilera DMD and Garrick McGrath, in conjunction with local veterinarian Julian Peckich DVM, hosted the parking lot cookout. A check was presented to the rescue just as they were receiving a large number of puppies.
Mutt Madd-ness is a no-kill rescue made up of community volunteers dedicated to saving dogs whose lives are in jeopardy. Their motto is Roger Caras' quote, "Dogs are not our whole life, but they make our lives whole." Dogs are worth saving.
The Marietta dentists, veterinarian and rescue group all have hearts for unwanted animals. "Dogs and cats are a gift, and it is our responsibility to be good stewards," says Dr. Peckich. "Working hand-in-hand with others has made our events successful. I couldn't work in a better complex."
The long term goal of Mutt Madd-ness is to create a state-of-the-art facility to accommodate animals awaiting adoption while providing low cost medical care. Since most animals come from high-kill facilities, they are in need of emotional and physical care prior to adoption. All animals are spayed or neutered, the only way to limit unwanted animals entering shelters in the state of Georgia. They are also active advocates for animal welfare through legislation and education.
Kirk Kimmerling DDS, Suzanna Aguilera DMD and Garrick McGrath DMD are Marietta cosmetic and emergency dentists paving the way for the future of dentistry. The technologically sophisticated office is also developing dental materials via Kimmerling Holdings Group, LLC and fiteBac SkinCare, LLC, Dr. Kimmerling's biotechnology firms. The dentists invite new patients to meet their exceptional staff and experience and benefit from state of the art dental care. The office offers a broad range of services from teeth cleaning, teeth whitening, dental whitening, dental veneers, root canals, dental extractions, dental implants, dental veneers, and dental bridges, dental crowns, fillings, tooth implants and emergency dental care while accepting most insurances.
Marietta Vet Clinic and veterinarian Julian Peckich DVM are pleased to welcome dogs and cats to the affordable pet clinic, dog clinic and cat clinic. Dr. Peckich provides veterinary services for Marietta, Kennesaw, Dallas, Acworth, and Powder Springs, GA. It would be their great pleasure to welcome new pets to the animal clinic for cat vaccinations, dog vaccinations, sick animal relief, laboratory testing, pet teeth cleaning, veterinary dentistry, wellness exams, spay and neuter clinic, mobile veterinary services and more.