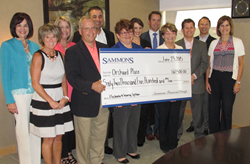 Providing a secure environment is a critically important issue.
Des Moines, IA (PRWEB) July 02, 2015
Orchard Place, mental health experts for Iowa's children, is proud to announce it has received funding to complete an electronic security system at the Campus location. This will provide an enhanced level of security for the 300 residents, staff, teachers, families and business associates at the Campus location.
"With four residential facilities, a large office and recreational building, clinical offices and a school located on the Orchard Place Campus, providing a secure environment is a critically important issue," said Nancy Bobo, Vice President of Development at Orchard Place. "It is wonderful when great organizations come together to help meet ongoing improvements to our facilities.
Gifts totaling $110,000 to complete the project came from Sammons Financial Group (our lead donor,) Variety of Iowa – The Children's Charity, the W.T. and Edna M. Dahl Trust, the Polk County Betterment Program, and Prairie Meadows.
The very nature of the work being done at Orchard Place brings with it inherent safety risks from high-risk clients, family members and others. The new electronic security system will reduce the risk of unauthorized entry and provide better control should a crisis situation occur.
Orchard Place is Des Moines' oldest charity providing mental health treatment and expertise serving Iowa's kids. Our inpatient, outpatient and community programs annually serve more than 10,000 children from birth to age 22. Four operating divisions are included in the Orchard Place umbrella of services: Child Guidance Center, Orchard Place Campus, PACE Juvenile Center and the Integrated Health Program. More information can be found at http://www.orchardplace.org.