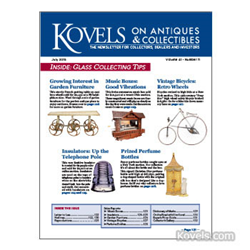 (PRWEB) July 02, 2015
Antique music boxes auctioned in Ohio are featured in a sale report in "Kovels on Antiques and Collectibles" July 2015 newsletter. See pictures and descriptions of magnificent music boxes that sold for high prices, including a Swiss singing bird automaton music box that brought more than $24,000. Hundreds of perfume bottles sold at a New York auction for $100 to over $67,000. See eye-catching figural perfumes—a Dior dog-shaped bottle with its silk dog house box, an airplane, tank, wine barrel and leather-coated dandy—along with their fancy prices in Kovels' July issue. And four recent online auctions included insulators, those "glass things" that topped wooden telephone, telegraph and power lines years ago. Insulators are prized by collectors for their color, unusual designs and history. Prices peaked at $3,850 for a fiery opalescent insulator made in the 1920s by Fry Glass Co. A sampling of insulators is pictured and priced in Kovels' latest newsletter.
Kovels' July issue reports growing interest in garden furniture. A Philadelphia auction offered many antique garden pieces that compliment modern gardens. Top lot was a pair of French cast iron and enamel planters with lion mask handles that sold for over $10,000, but there were tables, benches, gates and chairs for any budget. And Kovels' takes a bike ride down memory lane with pictures and prices of bicycles auctioned in New York. An 1888 Pony Star high wheel safety bicycle topped $16,000, while other 19th- and 20th-century models cruised from $11 on up into the thousands.
Kim Kovel reports on the Glass Pavilion at the Toledo Museum of Art. The popular illustrated Collector's Gallery answers readers' questions about a pixie cookie jar, a 1970s streaker poster, an old ice crusher tool and Red Wing Kashmir dinnerware. The July Dictionary of Marks lists marks used by California's Pacific Pottery. And prices of dozens of antiques and collectibles are listed in the Buyer's Price Guide.
"Kovels on Antiques and Collectibles" is available as a print subscription or as a digital version that is part of the Kovels.com Premium subscription.
Terry Kovel is America's foremost authority on antiques and collectibles. She is the well-known columnist and author of more than 100 books on antiques and collecting. With her daughter, Kim Kovel, she co-authors the best-selling annual "Kovels' Antiques and Collectibles Price Guide." The 2015 edition is now available in bookstores and online. They will discuss antiques and collectibles topics with accredited media. Photographs are available. Contact pr(at)kovels(dot)com.
About Kovels.com
Kovels.com, created by Terry Kovel and Kim Kovel, provides collectors and researchers with up-to-date and accurate information on antiques and collectibles. The company was founded in 1953 by Terry Kovel and her late husband, Ralph. Since then, Kovels' Antiques has written some of America's most popular books and articles about antiques, including the best-selling "Kovels' Antiques and Collectibles Price Guide," now in its 47th edition. The website, Kovels.com, online since 1998, offers more than 1 million free prices, and includes a free weekly email, "Kovels Komments." It gives readers a bird's-eye view of the market through the latest news, auction reports, a Marks Dictionary, readers' questions and answers and much more.
Contact Information:
Liz Lillis
216.752.2252
Pr(at)kovels(dot)com