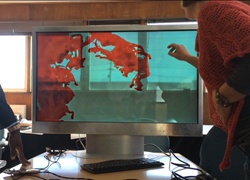 Miami, Florida (PRWEB) July 06, 2015
Taptl, a startup based in Miami, Florida, officially offers interactive transparent displays for sale to select retailers, architects and designers, and real estate developers. In late June, Taptl successfully developed an international presence with its first delivery to Mexico City.
Background:
Taptl's sole focus is on interactive transparent display technology. Beginning in 2008, the team at Taptl has been performing research and development on transparent LCD technology. During that time, Taptl's early prototypes were purchased by pinnacle firms such as Lockheed-Martin, Nike, and Tokyo University. The outcome of those years of development is marked by Taptl being the only company in the world to offer stand-alone transparent LCD products and solutions. Taptl's goal was to depart from the tired and restrictive use of "light boxes" to provide ample lighting for the displays. Consequently, they have developed a way to eliminate the bulky box and have a self-contained, lighting agnostic Interactive Transparent Display (ITD).
Details:
Taptl displays are viewable in low-light or high-bright, outdoor or indoor conditions; completely agnostic to the ambient lighting environments in which they operate. Ranging from 5" to 84" (with 110" in development) and producing 1080P (FHD) or 4K (UHD) resolutions, Taptl displays have officially ushered in the era of Interactive Transparent Displays. Their displays can be used as touchscreen kiosks or in revolutionary new ways, such as replacing storefront, office, residential, or any other window, or as tabletops. Taptl displays can be incorporated into any type of flat glass, conforming to hurricane or earthquake build standards, or designed directly into new construction for seamless integration.
With Taptl being the only company in the world to offer these fascinating displays, they have devised methods in which one can have a "privacy filter" on the rear of the display, thus creating a transparent display on one side, while eliminating the ability for anyone behind the display to view the content. Alternatively, Taptl also offers two-way viewable displays, whereby users and view content on either side of the display.
The displays can be used in the same manner as any other traditional TV or display. Whether a user wants to watch TV, utilize the display as a commercial interactive window, or have a completely different idea for transparent content interactivity - the uses are truly endless. Their clients and partners include world-renowned architect Fernando Romero, real estate developers, Fortune 500 retailers, and more.
Standard ports are HDMI, USB, and DisplayPort (if desired). They can also integrate Wifi, Beacons, and other capabilities upon demand.They can even create programs so that consumers can purchase items directly from a window, a groundbreaking new vertical for any commercial establishment. All displays can be custom.
Videos are available on their YouTube page: http://www.youtube.com/taptl95. The future is clear.