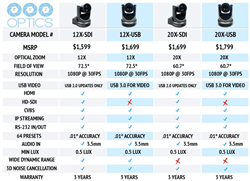 PTZOptics are 33% less than SONY camera and better! I am loving this! - Jeff Ellis, Stampede Global
Philadelphia, PA (PRWEB) July 10, 2015
PTZOptics is a broadcast quality video conferencing camera line that provides high quality with new industry features for both web video conferencing and live broadcast markets.
PTZOptics significant investment in "Triple-Streaming Technology" allows every camera to simultaneously output up to (3) 1080p video signals via the built-in HDMI, HD-SDI / USB 3.0 and via the network with H264 IP Streaming.
The PTZOptics Camera line comes with either a 12X or 20X optical zoom lens which can be ordered with either HD-SDI, HDMI and IP Streaming or USB 3.0, HDMI and IP Streaming.
Allowing the cameras to simultaneously output provides our users a "swiss army knife" for the complex meeting and broadcast landscapes.
All of the cameras include IP Streaming capabilities to allow users to serve video & audio on a local network via RTSP or stream via RTMP to a content delivery network.
The IP interface also allows for remote pan, tilt, and zoom control over a network with any computer or Smartphone.
PTZOptics even fosters a open source code community which has developed various custom applications using simple HTML and JavaScript commands.
Every camera has RS-232 & RS-485 control making these cameras integration friendly and compatible with popular control systems such as Crestron, Extron and AMX.
We encourage our customers to compare our PTZ Camera specifications against competitors such as SONY, Panasonic, Vaddio and Hitachi.
The entire PTZOptics camera line comes standard with a three (3) year manufacturer's warranty where all repairs are handled here at our US headquarters outside of Philadelphia Pennsylvania.
Don't forget to catch the live Friday Webinars hosted online every week.