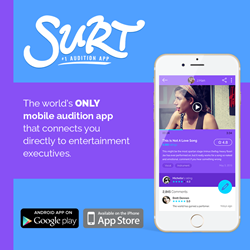 Artists can also join auditions from anywhere in the world, even from the comfort of their own bedrooms and submit themselves to be considered for talent opportunities in other countries.
New York, NY (PRWEB) July 02, 2015
Since 2009, total, worldwide downloads of all mobile applications have grown from 2.52 Bn to 179.6 Bn. People around the world are using smartphone technology to make almost every task more efficient, from simple things like grocery shopping to more complex endeavors like trading and managing their investment portfolios.
Three years ago, visionary South Korean based tech firm, Jocoos Inc., made the keen observation that the entertainment industry should be using the same technology to recreate the grueling and expensive, offline audition process. Within a short period of time they created SURT, a mobile application offering hosts and aspiring artists a "virtual" audition space.
With its ability to drastically reduce the costs of auditioning for both hosts and aspiring artists, SURT found instant success in South Korea and is now available in the US with plans to become global.
By utilizing SURT's platform to host a virtual audition, entertainment management entities:

Avoid the hard costs associated with hosting a brick and mortar event, such as space rental and staffing; additionally, new SURT hosts are eligible for a free 30 day trial until the end of 2015.
Allow their talent executives who operate in a fast paced, global industry to gain schedule flexibility as they are able to view, review and rate participants anytime and in any place.
Avoid compromising viewing quality as SURT utilizes a patent pending, streaming technology that produces video uploads with the same quality across a variety of operating systems.
Save time on large projects by gaining access to various types of entertainment professionals in the same forum; the application markets to vocalists, rap artists, instrumentalists, singer/songwriters, dancers, actors, comedians and models.
When artists utilize SURT's platform to enter virtual auditions:
They are capable of showcasing their talent globally without the expensive obligation of traveling to various locales to participate in live auditions; SURT is currently hosting auditions with major players such as Sony Music Entertainment (Japan).
They can easily supplement their other promotional activities by linking their talent profiles to their social media channels.
They receive free feedback and tips on their performances from their peers, the public and seasoned audition hosts; SURT currently touts more than 50,000 users globally and expects to climb to 500,000 users by 2016.
They are evaluated by SURT's own panel of entertainment executives and have the chance to be highlighted as a "SURT's Choice" video and receive additional promotion across Jocoos Inc. sponsored social channels and media efforts.
Naoki Takada, Vice President of A&R Administration at Antinos Management America, Inc., an affiliate company of Sony Electric Inc., and a current SURT audition host confirms there are a number of benefits for hosts who choose to use virtual rather than traditional, off-line auditions and one of the most important ones is scheduling flexibility, "They can view or review virtual auditions anytime or anywhere they would like."
Takada also highlights the benefits of an application like SURT to the emerging global entertainment community and says, "Artists can also join auditions from anywhere in the world, even from the comfort of their own bedrooms and submit themselves to be considered for talent opportunities in other countries." The global entertainment and media market is currently valued at 2 trillion US dollars and expected to grow to 2.3 trillion US dollars by 2018.
SURT has recently been a featured application on the homepage of Google Play and is also available for download on iTunes. Interested host entities can sign up to create an audition at https://www.surt.co/.
About SURT
The SURT mobile, audition application offers talent groups and entertainment management entities an opportunity to host or participate in auditions. Its features make it the fastest, yet simplest way for aspiring talent to achieve stardom, as well as the easiest way for entertainment management entities to host private, professional auditions within a virtual space. SURT specifically provides entertainment management agencies with an opportunity to avoid the hassles associated with hosting a brick and mortar audition, such space rental and staffing. SURT utilizes a US patent pending, video streaming technology which guarantees high quality video results across most operating platforms and it is available for download on iTunes and on Google Play. Anyone can sign up to use SURT to host an audition at https://www.surt.co/. Follow SURT on Facebook, Twitter, Instagram and YouTube for the latest in product updates, the chance to interact with others in the same industry and enter fun giveaways.
About Jocoos Inc.
Jocoos Inc. was founded in South Korea in 2012 by five partners who believed that entertainment industry auditions could be made easier for everyone if they were held via a mobile application. That mobile application was SURT. With nearly instant success in the South Korean market Jocoos Inc. developed a strong interest in launching SURT in the US, due to its global dominance in the entertainment industry. They officially established an office in NYC in September 2014, to actively pursue this goal. The Jocoos Inc. office in South Korea has now shifted its entire focus to R&D for SURT, while the NYC office has assumed all marketing, public relations and design efforts. Jocoos Inc. looks forward to the opportunity to actively work with increasing numbers of American partners in all areas of business and communications, in an effort to effectively promote the application as well as tailor its characteristics to localized, cultural considerations.