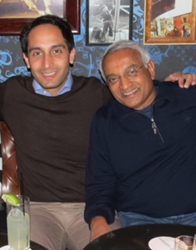 Humble, TX (PRWEB) August 01, 2015
The condition where veins are enlarged and gnarled is known as varicose veins, a common concern among both men and women often causing pain and discomfort. Those who spend a lot of time on their feet and standing are even more susceptible to this circulatory problem, and Northeast Houston Vein Center is doing what it can to create awareness and provide a cure in observance of Senior Citizen's Day on Aug. 21.
Most men think that women are the only ones affected by varicose veins, but think again. As many as 56 percent of men suffer from these ballooned veins, and the symptoms increase with age.
Also, it's important to know they are not just a cosmetic issue — they can lead to more serious problems such as discoloration, ulceration, restless leg syndrome, aching, heaviness, itching, burning, edema, or superficial venous reflux disease, which affects around 30 million people. And this is just to name a few symptoms.
The problem involves the veins in the lower extremities. When sitting or standing for an extended period of time, oftentimes for a job, the blood pools in the veins, causing the vein walls to weaken. The veins start expanding and eventually, when the valves that regulate the blood flow don't meet, the blood will start refluxing and flowing in the opposite direction.
When this happens, the appearance of the big, bulgy veins emerges, causing symptoms of throbbing, swelling, and decreased mobility.
For those who already suffer from the pain and have blue/brown veins, the good news is that vein treatment has come a long way from the painful "stripping" procedures of the past.
Today, Dr. Madaiah Revana uses a procedure called Venous Ablation to remove and seal shut varicose veins. Revana has helped treat thousands of patients with varicose veins, producing very successful results.
"It's a quick, outpatient, minimally invasive procedure that requires very little to no downtime," Revana said.
Left untreated, the symptoms will only get worse. If you think you may be suffering from varicose veins or any of these symptoms, let Dr. Revana examine and treat the discomfort. Finding lasting relief and improving the look of your legs is even easier than you may think.
Call Northeast Houston Vein Center today at 281-446-4638, and visit our website at http://www.nehoustonveincenter.com for more information.
About Northeast Houston Vein Center:
The experienced physicians at Northeast Houston Vein Center offer comprehensive vein treatment in the Houston area. They provide the latest techniques and state-of-the-art equipment in the diagnosis and treatment of venous disease. Since its establishment in 1978, the medical professionals at Northeast Houston Vein Center have been dedicated to going above and beyond for their patients. Treatment options are minimally invasive and the outpatient procedures will allow patients to resume normal activities the same day. At Northeast Houston Vein Center, patients can imagine a life free of venous disease. For more information, visit their website at http://nehoustonveincenter.com/.