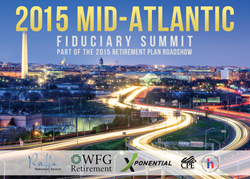 Adopting the best features in plan design, investment choices and participant education can elevate an ordinary plan to excellence
Washington D.C. (PRWEB) July 31, 2015
The 2015 Mid-Atlantic Fiduciary Summit is an educational workshop that brings together both local and national expertise to interact with CFOs, HR Directors, and Business Owners. The goal being to help employers reduce fiduciary risk, identify plan upgrades, and make better decisions that positively impact retirement plan participants.
Ed Gimenez,CFP®, AIF®, Director of Retirement Plan Services at Raffa Retirement Services and Joseph F. DeNoyior, CRPS®, AIF®, C(k)P™, Managing Partner at WFG Retirement will lead the discussion. Additional local experts will include Henry Smith, ERISA Attorney at Smith & Downey, Matthew Roberts, Employee Benefit Plan Architect at Raffa Financial Services and a local employee benefit plan auditing firm TBA. Diane Gallagher, VP DCIO Practice Management from American Century and former Navy Seal, John Choate will be featured as keynote speakers.
"Adopting the best features in plan design, investment choices and participant education can elevate an ordinary plan to excellence," emphasized Gimenez.
Topics of Discussion:
Past, Present, & Future of Retirement Plans
Financial Wellness & Retirement Readiness
Target Date Fund Panel featuring Senior Personnel
Ask the Experts: Local Professional Panel
RFI & RFP Best Practices
What Every Fiduciary Needs to Know for 2015 & 2016
The 2015 Mid-Atlantic Fiduciary Summit is a stop on the Retirement Plan Roadshow and will be held at the City Club of Washingron located at 555 13th St NW, Washington, DC 20004 on September 29, 2015 from 11:30 AM to 3:00 PM (lunch will be served). The 2015 Mid-Atlantic Fiduciary Summit is approved for 3 CPE/CPA credits and 2.5 HRCI general credits. Seating is limited and local plan sponsors will receive priority registration. Additional details and registration information can be found on the registration page: http://xgrowthsolutions.com/retirement-events/2015/09/2015-mid-atlantic-fiduciary-summit/
About Raffa Retirement Services
Raffa Retirement Services was founded in 1999 and has an office in Rockville, MD. Raffa Retirement provides comprehensive employer retirement plan advisory services, focusing on fiduciary best practices, investment due diligence, plan design optimization and employee education.
raffaretirement.com
About WFG Retirement
WFG Retirement's passion is assisting with the design of a plan that best suits the needs of both the company and its workforce. WFG Retirement adheres to a high fiduciary standard of care while seeking to help offer an appropriate mix of investment options, education and personalized counseling to employees as they pursue their retirement goals. Best of all, WFG Retirement is able to instill confidence, knowing interests of plan sponsors and participants always come first.
As an independent firm, WFG Retirement is both vendor and investment neutral, helping to ensure transparency across all aspects of retirement plans in order to improve desired plan and participant outcomes.
WFG Retirement's goal is to provide investment education and retirement planning guidance to employees to enhance the overall effectiveness of plans.
washfinancial.com/organizations/wfgretirement

Securities and advisory services offered through LPL Financial, a registered investment advisor, member FINRA/SIPC
Xponential Growth Solutions is not affiliated with LPL, WFG nor Raffa Retirement
About Xponential Growth Solutions
Xponential Growth Solutions (XGS) has helped thousands of retirement plan sponsors/employers reduce fiduciary risk, identify plan upgrades, and make better decisions that positively impact millions of participants.
We are independent of investment professionals, third party administrators, fund companies, and recordkeepers. With our expertise in regulations and industry best practices, XGS is able to provide unbiased education, recommendations, and referrals. Our transparent information and solutions equip employers with the tools and confidence to maximize the value of the plan for both the employee and employer.
xgrowthsolutions.com