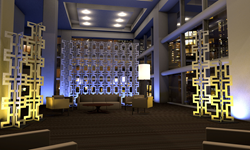 Lititz, PA (PRWEB) July 01, 2015
ATOMIC, a creative company providing set construction, rental solutions, lighting, design and production services for the live event industry, announces a new ground-support product line: FASTwall. Oh yeah! ATOMIC is at it again just one year after launching the award-winning SuperWall system; ATOMIC has produced another head-turning backdrop design to compliment the existing arsenal of "packs small, plays BIG" products. FASTwall, which stands for Flat-packing, Angled, Slot & Tab wall, uses the patented SuperLever connectors and can be assembled with absolutely no tools or additional hardware and is 100% ground supported.
Built with modularity and logistics in mind, the FASTwall system packs completely flat and is easily assembled by interlocking the panels, creating a structurally sound, free-standing backdrop. FASTwall panels are designed by ATOMIC's in-house Design Team and go through a rigorous R&D process to best serve designers and event-planners' needs. The FASTwall is identical on both sides, ideal for partitions, lounges and red carpet events.
The FASTwall build starts by connecting two unique FASTwall panels; each panel contains a slot to interlock, creating an "x" shape and becoming one section of the FASTwall. The panels utilize ATOMIC's patented connector system (that doesn't require tools or additional hardware) and connect to two bases. FASTwall is specially designed to play with event lighting of all kinds and has a unique space built into the base to conceal internal lighting. Call us today at 717-626-4408 about renting the FASTwall and to request CAD files for your next design.
About ATOMIC:
Headquartered in Lititz, PA, ATOMIC is a creative company in the business of live events for entertainment and brand communication. ATOMIC has a diverse collection of creatives. Our team of producers, designers, engineers, moviemakers, artists, storytellers, technicians and craftsmen provide set construction, rental solutions, lighting, design and production services to clients across the globe. Established in 1994, ATOMIC is rooted in the rock & roll industry, joining Clair Global and Tait Towers in Lititz, PA–the "backstage of the concert world"–to create the trifecta known as Rock Lititz. Now with a presence in Los Angeles, New York, Brisbane, Rio de Janeiro, Edmonton and Singapore, ATOMIC serves clients from television networks to global brands to designers and artists. ATOMIC drives each project forward. No Surprises. Unique Results. For more information on ATOMIC please visit http://www.atomicdesign.tv
###