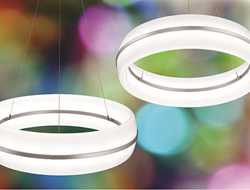 "It is exciting to offer a pendant of this style that produces a practical amount of light. I look forward to expanding the line with additional sizes and profiles." says Cinda Vera Redoor, VP of Sales and Marketing at Visa Lighting.
Milwaukee, WI (PRWEB) July 07, 2015
Meridian is an alluring luminous pendant that will enhance any space. The simple and chic profile works with today's modern design trends. Meridian is available in LED only with a choice of color temperatures in 3000K, 3500K and 4000K. Power supplies are integrated into the canopy and provide 0-10V dimming down to 10%.
Meridian's vacuum-formed diffusers are evenly illuminated using Visa Lighting LED modules and delivers 79 lumens per Watt. The extruded aluminum ring houses the LEDs and can be finished with any of our 16 standard paint finishes, brushed aluminum or any of Visa Lighting's exclusive alternative metal finishes.
Visa Lighting - Performing Beautifully.
About Visa Lighting:
Located in Milwaukee, Wis., Visa Lighting products are manufactured and assembled in the United States. The most recognized U.S. brand in performance decorative lighting, Visa Lighting creates the highest quality, most innovative products available to the lighting industry. We provide tangible value in our products to the customer, support continual improvement opportunities for our workforce and demonstrate commitment to community measured by our stewardship of the environment and promotion of social responsibility. Visa Lighting is an Oldenburg Group company.