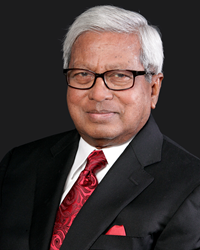 Washington, DC (PRWEB) July 01, 2015
Sir Fazle Hasan Abed, BRAC's founder and chairperson, was announced as the winner of the 41st annual World Food Prize today. Sir Fazle has been recognised for his outstanding contribution to enhancing the world's production and distribution of food to those most in need.
Ambassador Ken Quinn, President of the World Food Prize Foundation, announced this year's winner at a ceremony at the State Department in Washington, DC on 1 July 2015. A $250,000 award, the World Food Prize is often referred to as the Nobel Prize for food and agriculture.
"Being selected to receive the 2015 World Food Prize is a great honour," said Sir Fazle in a statement. "I thank the Foundation for its recognition of the work of BRAC, which I have had the privilege to lead over the last 43 years."
"The real heroes in our story are the poor themselves and, in particular, women struggling with poverty. In situations of extreme poverty, it is usually the women in the family who have to make do with scarce resources. When we saw this at BRAC, we realised that women needed to be the agents of change in our development effort."
BRAC's contributions to poverty and hunger eradication and food security are widely credited as a major contributor to Bangladesh's progress in halving the poverty rate since 1990, in line with the UN's Millennium Development Goals.
By focusing on scalable solutions, BRAC's food programmes have turned into sustainable social enterprises that provide inputs and access to stable markets for the rural poor. Under BRAC's agriculture and food security programme, 133,000 farmers were trained with improved farming technologies in the year 2014.
BRAC's agriculture and food security programmes are part of a larger set of poverty eradication interventions working in 11 countries, empowering the poor, women and girls especially, using tools like microfinance, education, healthcare, legal services, community empowerment, social enterprises, and a full-fledged university, BRAC University, in Dhaka.
Notes to editor:
About the World Food Prize
The World Food Prize is an international award acknowledging individuals who have advanced human development by improving the quality, quantity or availability of food in the world. By honouring those who have worked successfully toward this goal, the prize calls attention to what has been done to improve global food security and to what can be accomplished in the future. Each year, the laureate is honoured at a three-day symposium in October held in Des Moines, Iowa: home of the World Food Prize Foundation. Learn more at http://www.worldfoodprize.org
About Sir Fazle Hasan Abed
Sir Fazle Hasan Abed founded BRAC, formerly Bangladesh Rural Advancement Committee, in 1972. He has received numerous other honorary degrees including Doctor of Humane Letters from Yale University (2007); Doctor of Laws from Columbia University (2008); Doctor of Letters from the University of Oxford; In 2009, he was appointed Knight Commander of the Most Distinguished Order of St. Michael and St. George (KCMG) by the British crown in recognition of his services to reducing poverty in Bangladesh and internationally.
About BRAC
BRAC is a global leader in creating opportunities as a means to end poverty. With more than 120,000 employees, it is the world's largest non-governmental organisation, touching the lives of an estimated 135 million people in 11 countries using a wide array of antipoverty tools such as microfinance, education, healthcare, legal rights training and more. Learn more about BRAC at http://www.brac.net