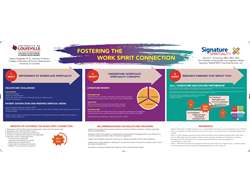 We are excited to find, with our first-ever quantitative study, that workforce productivity, complemented with spirituality, drives creative and innovative thinking as well as emboldens self esteem. – Dianne Timmering, VP of Spirituality
Louisville, KY (PRWEB) July 02, 2015
Signature HealthCARE was proud to give a poster presentation during the annual conference for the Association of Professional Chaplains (APC), held this year in Louisville, Ky.
Signature is a long-term care, health care and rehabilitation provider headquartered in Louisville with 126 locations in 10 states. APC represents more than 5,000 member chaplains and affiliates that are involved in chaplaincy care of all people, respecting diverse cultures, identities and beliefs. This aligns with Signature's own Department of Spirituality, which delivers interfaith spirituality programming, education and support to all of Signature's nearly 20,000 employees, and the residents and families it serves.
The theme for the 2015 APC Annual Conference was 'Soul meets Data: Research & Technology in Chaplaincy Care.' The conference featured numerous trainings, exhibits and speakers, including discussions on evidence-based chaplaincy care, 'revolutionary' planning for end-of-life care and the use of social media.
Signature Spirituality presented findings from a recent study it completed in partnership with Meera Alagaraja, Ph.D, a professor in the University of Louisville's College of Education and Human Development.
"We are excited to find, with our first-ever quantitative study, that workforce productivity, complemented with spirituality, drives creative and innovative thinking as well as emboldens self esteem," said Dianne Timmering, Vice President of Spirituality and Legislative Affairs for Signature.
The study, 'Fostering the Work-Spirit Connection,' examines the impact of spirituality in the workplace, particularly in a health care setting. Based on feedback from several hundred Signature HealthCARE employees, the research found that workplace spirituality provides a number of benefits, including a sense of relevance and purpose in the lives of workers, stronger work ethic, lower stress and a greater respect for diversity in the organization. It also found that workplace spirituality aids with creativity and organizational conflict.
"Employees who have a strong sense of inner well-being experience meaningfulness in work and are more satisfied with their jobs than those who do not," Alagaraja said of the study's findings. "These employees also find a strong connection with their department and the company itself. This is great news for employees as it encourages them to focus on ways that enhance inner well-being, or spirituality, as a way of dealing with everyday stress related to work."
For more about Signature HealthCARE, visit LTCRevolution.com.