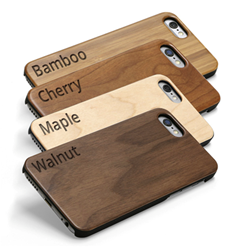 These cases feature an authentic wood backing combined with a hard shell clipper case offering the classic look of genuine wood, with the durability of a polycarbonate hard case.
Chicago, IL (PRWEB) July 02, 2015
Sunrise Hitek is pleased to announce full custom printing on their woodland phone cases. Customers can choose from a full printed image on their case or laser engraving https://www.sunrisehitek.com/product/woodland-phone-case. These cases are available in four breathtaking wooden finishes: walnut, maple, cherry and bamboo. What makes these cases so impressive is that they wooden finish is real wood, not a faux finish. Underneath is a hard shell polycarbonate clipper case to provide the ultimate in phone protection.
About Sunrise Hitek
Sunrise Hitek's üuber store, formerly known as iGear, is a leading maker of protective gear for Apple's iPad. The brand changed to üuber when the company starting developing cases for other devices, such as the MacBook, Chromebook, and Samsung devices. Sunrise Hitek Group, LLC, owner of the üuber brand, also operates Sunrise Digital, a leading digital printing company based in Chicago. As a G7 Qualified Master Printer, Sunrise is uniquely qualified among protective gear makers to offer a wide array of customization options, ensuring the most consistent and accurate color reproduction. Sunrise is an Inc. 5000 company established in 1988 and employs the most advanced equipment and technology, such as G7-certified HP Indigo and UV flatbed presses, and digital die-cutting, to create best-in-class products. A privately-owned enterprise, the company is based in Chicago and sells products worldwide.