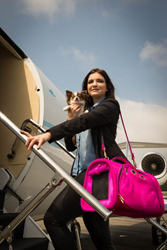 At Aircraft Services Group your Pets are Passengers not Luggage
East Hampton, NY (PRWEB) July 02, 2015
The premiere canine-connoisseur duo, Dr. Cindy Bressler & Edward Alava, have teamed up once again to provide Hamptons' dogs and their owners with access to the best in products, services, and other canine lifestyle amenities that exist outside of Hamptons' Proper.
Beginning June 28th, every week a different participant will be promoted throughout the Hamptons by the distribution of relevant marketing material throughout the villages in boutiques and commonplaces, on the Dr. Cindy Bressler Hamptons Free Ride, and at The Dog Store—Wainscott. A celebratory cocktail party at The Dog Store—Wainscott will mark the end of each participant's week and the new one will be introduced the following day. Brand representatives will be in attendance to answer questions you have about the participating business.
Without further ado, kicking off Week 1 of The 2015 #HamptonsDog Summer Showcase is a pet-friendly private jet company: Aircraft Services Group, Inc (ASG). ASG, a leader in Private Aircraft Charter and Management Services is proud to introduce, "Paws on Board."
At Aircraft Services Group (ASG), your pets are passengers not luggage. ASG is delighted to offer a pet-friendly air travel service in which your pets travel by your side with integrity and grace, in the most luxurious equipment available. All breeds and/or sizes/weights are welcome. ASG's charter division is fueled by the need for safe and secure, comfortable, and time-efficient private air travel. The ASG charter team provides the highest quality service from start to finish, customizing your flight to meet your specific needs.
Marketing materials have been distributed and the Cocktail Party is Friday, July 3rd 6-8PM at The Dog Store—Wainscott. Discounted flights will be provided to all attendees. Dogs are welcome.
Dr. Cindy Bressler is the NYC & Hamptons celebrity housecall veterinarian who provides #HamptonsDogs with outstanding, personalized veterinary care. Dr. Bressler is available 24/7 for routine care or emergencies serving her patients in the comfort of their own home. She is the only veterinarian to provide in-home hospitalization for pets—a service many clients are grateful for.
Edward Alava is the owner of The Dog Store NYC & Wainscott—a luxury dog boutique and premiere grooming salon. Identified as a Beauty and Wellness Expert [for dogs] amongst his powerful, influential followers; it came as no surprise to find Alava's name mentioned in the 2015 NYPost article highlighting the three Hamptonites everyone should get to know (including dogs).
Discounts and other offerings are being provided by ASG to those who make an appointment with Dr. Cindy Bressler for veterinary care and/or The Dog Store—Wainscott for grooming services now until Labor Day.
Check back weekly to find who the next showcase participant is.
YourPet(at)YourJet.com
855-220-9483
http://www.YourJet.com