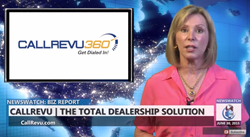 With so much riding on CSI scores, the importance of customer service needs to be woven into the fabric of a dealership.
Baltimore, MD (PRWEB) July 03, 2015
Discovery Channel's NewsWatch program featured CallRevu during its monthly Tech Report segment, which showcases the latest technology products available to consumers. Every call that comes into your dealership counts, and America's best dealers count on CallRevu. Because every inbound contact is critical, CallRevu listens to each call from beginning to end and alerts management on missed opportunities in an average of less than 28 minutes. The value of moving units, saving deals, and delighting customers is in the "now." Consumers expect real-time responses, and CallRevu delivers real-time feedback via text message and/or email.
With over 100,000 phone lines and millions of calls tracked and monitored for only automotive, CallRevu sets the industry standard with our unparalleled experience. Offering client partners a range of quality call tracking, monitoring, measuring, and lead development services, CallRevu helps automotive dealers measure and improve the most common contact point with their customers–the phone.
With the listening to millions of calls, CallRevu knows that in an average dealership, approximately one out of three calls never connects to the intended party. CallRevu's Phone Skills Training helps fix this by assisting dealers with expertise development at no cost, while addressing skill gaps and process issues. Users can sign up for webinars led by CallRevu's expert instructors, or view on-demand videos and learn at their own pace.
Also featured in the NewsWatch segment is CallRevu's employee survey solution, EmployeeRevu™. EmployeeRevu™ addresses the important elements of the employee experience within the automotive industry and collects the internal feedback necessary to examine and make meaningful improvements.
Car buyers and service customers routinely provide feedback about their experiences with dealerships. Coupling this data with employee feedback and perceptions offers the opportunity to deliver a seamless customer experience. "With so much riding on CSI scores, the importance of customer service needs to be woven into the fabric of a dealership. CallRevu feels that it's important to explore what can be done to ensure your dealership is rated excellent every time," says Chip King, Founder and Managing Partner. "Just as competition is a fact of doing business, so is the idea that there is no room for one negative survey."
Watch the complete television segment.
About NewsWatch
NewsWatch is a weekly 30-minute consumer oriented television show that airs on the Discovery Channel and ION Network. NewsWatch regularly features top technology products and services, mobile applications for iOS, Android, and Windows devices, unique and beautiful travel destinations around the world, health and medical tips, and entertainment interviews on the show. NewsWatch airs on the Discovery Channel at 7:00 – 7:30 AM ET/PT and has been on air for over 25 years.