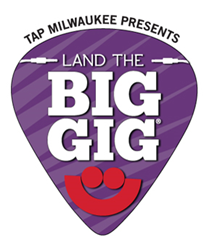 When asked what he was planning on doing with his $20,000 prize Chris said, "to start, I'm going to buy some shoes."
Milwaukee, WI (PRWEB) July 02, 2015
Thousands of votes were cast, the Top Three Finalists competed, and one band came out on top at Land the Big Gig on June 25th. Tap Milwaukee, Pepsi and Summerfest are proud to announce Christopher Wild as the grand prize winner of Land the Big Gig 2015.
Christopher Wild is a brand new rock artist out of Nashville, Tennessee. His 2014 debut album has been called "raw, gritty, explosive garage rock that is absolutely relentless from start to finish." His debut album sold hundreds of vinyl copies in its first month and has had two tracks featured on season 5 of Showtime Network's original series Shameless. Wild has featured his three-piece rock band on the same stages as Joan Jett, Halestorm, and Shinedown and has independently toured much of the eastern part of the United States.
When asked what he was planning on doing with his $20,000 prize Chris said, "to start, I'm going to buy some shoes."
Judging this year's competition was Andrew McMahon of Andrew McMahon in the Wilderness; Bob Babisch, VP of Entertainment for Milwaukee World Festival, Inc. and Jason Klagstad, a Summerfest performer and 4-time WAMI award winner.
This year's first runner up was Olivia Millerschin. Clever and witty, melodic and musically quirky as ever, Olivia Millerschin is feeling a bit "Over The Weather" these days, infusing her latest EP with all the colorful elements (pop, jazz, folk, soul) and wry turns of phrase that made her debut album "Yes.No.Maybe So." so popular and infectious, leading to its nominations for three 2014 Detroit Music Awards and radio play nationwide. She was a finalist in 2 DMA categories in 2015 as well.
Second runner up L.E.X is a 23 year old Hip-Hop artist, college student, preschool teacher, and positive speaker from Milwaukee, WI. The passion, positivity, realness, and honesty can be felt and heard throughout his art and messages. His music speaks to so many because it is enjoyable for all ages, and its music that is relatable. He's also a person who believes that #DreamsStartYoung, and this positive dream chasing movement for all has reached from Milwaukee, WI all the way to the UK and Brazil.
Tap Milwaukee, the city's leading online entertainment site, teamed up with Pepsi and Summerfest to search for great musical talent. More than 280 aspiring musicians from across the nation submitted their songs online at http://www.LandTheBigGig.com. Music fans from around the country narrowed the competition to the top ten by popular vote. A select panel of music industry judges helped decide the three semi-finalists who performed at Summerfest on Thursday, June 25th, on the Briggs & Stratton Big Backyard with Coors Light and TAP Milwaukee.
Fans and performers are encouraged to stay connected to "Land the Big Gig®" via http://www.LandTheBigGig.com,http://www.Summerfest.com and http://www.TapMilwaukee.com for updates and additional information. Land the Big Gig® is presented by Tap Milwaukee, Summerfest and Pepsi.
About Summerfest
Summerfest 2015 will take place June 25 - 29 and July 1 - 6 from Noon until Midnight and will be closed Monday, June 30. Following its 1968 debut, Summerfest has evolved into what is now recognized as "The World's Largest Music Festival" and Milwaukee's cornerstone summer celebration, bringing the music industry's hottest stars, emerging talent and local favorites along with approximately 900,000 people from Milwaukee and around the world together each year for an unforgettable live music experience. During the festival, the spotlight shines on over 800 acts, over 1,000 performances, 11 stages, delectable food and beverages and interactive activities, all in a world-class festival setting. Patrons can also enjoy Miller Lite, the Official Beer of Summerfest. For more details, visit Summerfest.com, Facebook.com/summerfest or Twitter: @Summerfest.
About Tap Milwaukee
TapMilwaukee.com is the Milwaukee Journal Sentinel's essential guide to entertainment, with all the latest news on music, dining, art and architecture, theater, books and more. Before you head out on the town, turn to TapMilwaukee for fast, thorough entertainment information you won't find anywhere else.
About the Milwaukee Journal Sentinel
Journal Sentinel Inc. publishes the flagship Milwaukee Journal Sentinel newspaper as well as a range of other print and electronic products, including JSOnline.com, primarily serving people and businesses in southeast Wisconsin. JSEverywhere offers a bundled subscription for both print and digital or digital-only subscribers with added applications for both mobile devices and tablets. Journal Sentinel is committed to providing news coverage that reflects the ever-changing world and fulfills the needs of readers and advertisers both in print and online.
In addition to Sports Show, Journal Sentinel hosts Land the Big Gig®, a national wide music talent search and Wine and Dine, Wisconsin's largest showcase for area restaurants, chefs and foodies of all types.